Dir: Adrian Grunberg. US. 2011. 94mins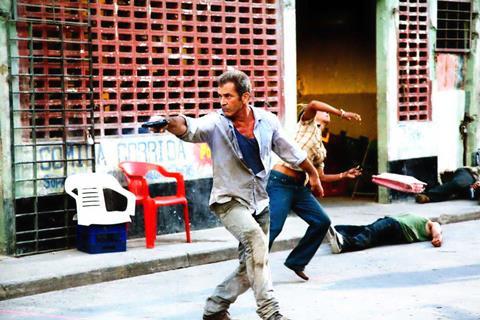 Mel Gibson smartly returns to down-and-dirty action-drama with How I Spent My Summer Vacation, and a good move it is. Those who like Mel in shooting/fighting/grenade-throwing mode will enjoy this violent noir thriller that hits the ground running and barely takes breath to break its forward momentum.
Gibson handles the role with his usual physical grace and gritty charm.
The film has opened in Israel and the Middle East prior to a European launch in May, though in the US it is scheduled to go straight to VOD, and has been retitled Get The Gringo. Perhaps the Mel Gibson brand is not what it once was – with his current spat with screenwriter Joe Eszterhas getting press attention – but one would think this solid action romp should find a cinema audience in the US.
There is no denying, though, that fans of Gibson in the Lethal Weapon films as well as his darkly violent 1999 hit Payback – to which How I Spent My Summer Vacation feels like a sort-of sequel – will enjoy the tough action on show here. The lack of a name supporting cast (Peter Stormare crops up for a few memorable scenes) puts the film fair-and-square on Gibson's shoulders, but it is a sound move playing to the action fans who were always the core of his fanbase.
The credits list Mel's character simply as 'Driver', and though he has no formal name in the film he does adopt a couple of other identities (Richard Johnson and Reginald T Barnes) to help further his criminal career.
The film opens in spectacular style. US police are chasing a car along the Mexican border. At the wheel is a guy in a clown mask, while in the back seat is another guy in a clown mask…clutching a bagful of money and with a nasty looking chest-wound. Driver flips the car through the border wall where he is promptly arrested by the Mexican police, who lick their lips at the sight of the cash.
Packed off to a hard-core Mexican prison named El Pueblito, he is bemused to find it run like a small town, with men, women and children all sharing space, but with gang lord Javi (Daniel Gimenez Cacho) running things with an iron fist. But if there is one things Driver knows how to do it is survive, and he sets about stealing money and observing how the brutal prison gangs work, getting more than a little assistance from a 10 year-old boy (Kevin Hernandez, who featured in The Sitter recently) who lives in the prison with his mother.
But the outside world is about to descend on El Pueblito. Driver stole $2million from San Diego gangster Frank (Peter Stormare) and he wants it back, and sends a three-man team of gun-toting hitmen into the prison to try and take Driver out. Javi – who happens to have tracked down the stolen money – is furious about the bloodbath attack, and Driver manages to convince him that he should provide a car, guns and money to get him back into the US so he can kill Frank.
Add to the pot that the kid happens to be being protected by Javi as he wants the boy's liver for a transplant and the fact that Driver starts to take a shine to the boy's mother (Dolores Heredia), and you have an action-packed finale as Driver fights (well, actually fakes) his way back into prison as the authorities decide to close it down and as Javi's doctors prepare for an operation.
Debut director Adrian Grunberg (who worked with Gibson as 1st AD on Apocalypto and Edge Of Darkness, and was also 1st AD on films such as Man On Fire and The Legend Of Zorro) shows a sure touch in the action scenes, and certainly helps bring out the best in Gibson, whose character is a merge of Porter from Payback and Riggs from the Lethal Weapon films.
There is no backstory to his character. His story opens with him on the run with a bagful of money and develops from there. He can handle a gun, fight, pick pockets, was a sniper, speaks Spanish and has had his fingerprints wiped off. Gibson handles the role with his usual physical grace and gritty charm, and while you get to know very little about his character he is constantly intriguing.
Gibson even gets to try out his Clint Eastwood impersonation in an oddly surreal and complex sequence as he pretends to be Eastwood to set up a meeting with a businessman to try and lure in Frank. It is all unnecessarily convoluted, but does result in a fine action moment involving two grenades and an umbrella.
The El Pueblito prison set is a terrific recreation. Such a prison did exist, but was torn down some years ago, but the filmmakers used an alternate prison location and created a big, dangerous and multi-layered backdrop – that includes shops, drug dens, houses and even a Mexican wrestling ring – that is the perfect environment for an action thriller.
Production companies: Icon Productions, Airborne Pictures
International sales: Icon Films International, www.iconmovies.net
Producers: Bruce Davey, Mel Gibson, Stacy Perskie
Executive producer: Ann Ruark
Screenplay: Mel Gibson, Adrian Grunberg, Stacy Perskie
Cinematography: Benoit Debie
Editor: Steven Rosenblum
Production designer: Bernardo Trujillo
Music: Antonio Pinto
Main cast: Mel Gibson, Kevin Hernandez, Dolores Heredia, Peter Stormare, Daniel Gimernez Cacho, Roberto Sosa, Peter Gerety, Bob Gunton, Patrick Bauchau, Jesus Ochoa