Dir: Oliver Parker. UK. 2011. 101mins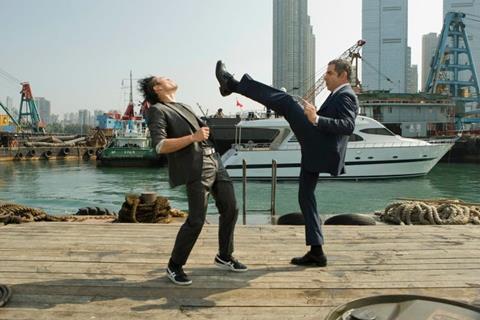 Johnny English, the most 'special' of special agents is back on the big-screen in a somewhat belated sequel that finds star Rowan Atkinson sporting more grey hair but still as flexibly funny as he was in the spy spoof original. There are enough laughs and over-the-top action scenes to keep Atkinson fans happy, while a strong support cast will help cross-over potential and help make Johnny English Reborn an international success.
Johnny English Reborn is at its best when concentrating on the comedy and putting the rather simplistic spy spoof stuff to one side.
The original Johnny English film opened in 2003 with Atkinson still on a comedy high with the success of his Mr Bean character, and attracted audiences fond of his physical comedy routine and keen on the notion of a James Bond spoof replete with exotic locations, hiss-worthy villains and a sultry femme fatales.
This sequel opens in Australia and Europe prior to its October 28 US release, and will likely be riding a wave of strong box office, opening internationally with a strong marketing campaign.
The film opens with a ponytailed English engaging in a little martial arts training in a remote Tibetan monastery, which plenty early emphasis on the physical gags that essentially carry the film. He is summoned back to MI7, to find the UK's secret service operation now sponsored by a Japanese technology company and headed by stern Pegasus (Gillian Anderson, impressive and engaging in a straight-woman role). It seems English was involved in a botched mission in Mozambique some years earlier, hence his absence, and any reminder of the mission sees his eyes tick as he recalls his disgrace.
He is reunited with fellow agent Simon Ambrose (Dominic West in cool and classy form) and meets MI7 behavioural psychologist Kate Sumner (Rosamund Pike, who starred in Bond film Die Another Day), and packed off on a mission with rookie agent Tucker (Daniel Kaluuya) to Hong Kong to meet a renegade CIA agent (West Wing's Richard Schiff) who has information on a secretive cabal of assassins and a mole at MI7.
Thanks to English's stunning ineptitude, he soon finds himself framed and once again in disgrace, and naturally has to take it on himself to foil a plot to kill the Chinese leader at a conference at a remote and heavily-armed Swiss mountain-top building.
Though it is punctuated with set-piece action scenes and a fully-fledged fight in a cable car sequence at the climax, Johnny English Reborn is at its best when concentrating on the comedy and putting the rather simplistic spy spoof stuff to one side. The Bond 'tribute' golf game (a la Goldfinger) is nicely staged and a chase through London with Atkinson in a spy-adapted wheelchair is impressively shot, but the real laughs come when Atkinson is doing to physical comedy routines and playing on English's blundering ineptness.
There is as much fun to be had with him struggling to control the height on his office chair during a meeting with the Prime Minister or chasing the Queen of England through Buckingham Palace than there is in a whole series of expensive spy spoof scenes.
Dominic West is excellent as his super-smooth spy rival while Gillian Anderson is appropriately severe but rather sexy as his MI7 boss. To an extent Rosamund Pike is wasted in the clichéd role of the psychologist who lakes an unlikely shine to English, though she brings real class to proceedings.
Production companies: Working Title, Relativity Media, StudioCanal
International distribution: Universal Pictures
Producers: Tim Bevan, Eric Fellner, Chris Clark
Executive producers: Liza Chasin, William Davies, Debra Hayward
Co-producer: Ronaldo Vasconcellos
Screenplay: Hamish McColl, based on a story by William Davies.
Cinematography: Danny Cohen
Editor: Guy Bensley
Production designer: Jim Clay
Music: Ilan Eshkeri
Main cast: Rowan Atkinson, Dominic West, Gillian Anderson, Rosamund Pike, Daniel Kaluuya, Richard Schiff, Pik Sen-lim, Mark Ivanir, Tim McInnerny