Dir/scr: Niles Atallah. Chile. 2010. 80mins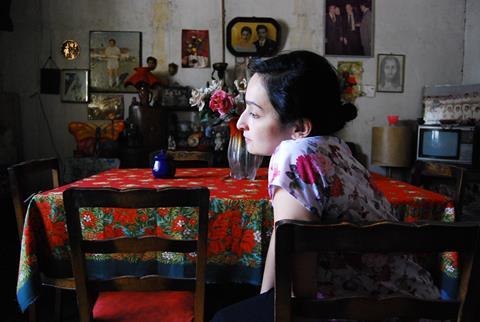 This delicate and oddly moving slice of life about a young seamstress in Santiago, Chile, set against the backdrop of the few weeks in December between the funeral of ex-dictator Pinochet and Christmas, is a fine debut for writer-director Niles Atallah.
Essentially the film is a series of glimpses into how the pair live.
His artfully observed film may be modest is story, but his astute observation of the way Lucia and her father live their modest life is a fascinating story. Though very much a festival film, it hints at a talent to be watched.
Essentially the film is a series of glimpses into how the pair live. Lucia (nicely played by Gabriela Aguilera) lives with her father in a ramshackle house, with the detritus of their lives lining the walls and sitting on every surface. They barely talk, but are comfortable with each others company.
The film premiered in the Zabaltegi, Pearls, section of the San Sebastian Film Festival.
She works as a seamstress in a factory while simply potters around the building, reading or sleeping. Towards the end of the film she works on a Father Christmas and helper costumes, and the pair take a taxi a house in the wealthy suburbs of Santiago where the play Father Christmas and his assistant for the children of a doctor, handing over a series of expensive looking gifts.
They return home, eat their modest Christmas dinner and exchange gifts. She gives her father a pen and he gives her an audiotape of a playful conversation they had together when she was a child. Alone in her room she listens in tears to her childish enthusiasm and sense of excitement in a room surrounded by objects of dreams and memories.
Atallah uses stop-motion photography in opening and closing scenes to pull out the rich colours amidst the paraphernalia and decorations of the apartment, giving the film a dreamlike quality for those key scenes.
Production company/sales: Diluvio
Producers: Francisco Albornoz, Niles Atallah
Cinematography: Niles Atallah
Editors: José Luis Torres Leiva, Andrea Chignoli
Main cast: Gabriela Aguilera, Gregory Cohen, Eduardo Barril, Esperanza Silva, Francisca Bernardi