Dir: Morgan Spurlock. US. 2012. 82mins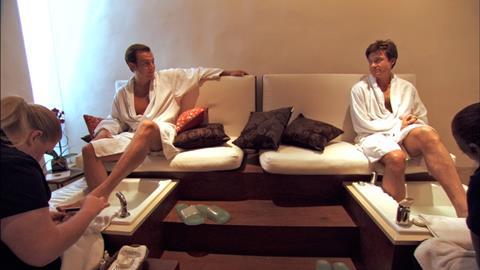 There are some amusing moments sprinkled through Morgan Spurlock's engagingly simplistic delve into the current state of American masculinity (and how men in general view themselves), though it feels more like a good idea than a polished final product.
Stronger moments include John Waters and his legendary pencil-thin moustache.
Set for a US release in mid-May, the film had its world premiere at the Tribeca Film Festival. It is pretty traditional in structure and very familiar with its mix of comedians and experts as it purports to mull over what it is like to be a modern man, but there is a niggling sense that it is rather rushed and favours simplistic clichés rather than any great depth of argument.
The film opens with Exec producers Will Arnett and Jason Bateman heading off to a spa and engaging in a little intermittently amusing comedy improv about what it is to be a man. They crop up at various stages through the film, giving Mansome a dash of star glamour, but little else.
Initially Mansome feels like a Spurlock documentary we have seen before as he puts himself front-and-centre on-screen as he dwells on facial hair, and in particular his own distinctive moustache. He even features his own young son who starts to cry when he realises his father has shaved off his moustache as part of Movember.
But once the moustache bit is out of the way, Spurlock slips back behind the camera as the film movies on to beards (with lots of emphasis on "beardsman" Jack Passion, who competes in professional beard competitions); hair; a wrestler who has to shave his bodyhair on a regular basis, and hairdressers (with focus on a wig manufacturer) and eventually male grooming. Stronger moments include John Waters and his legendary pencil-thin moustache while Paul Rudd offers a few great one-liners, though it feels like the film should be more structured and insightful.
Production companies: Electus, Warrior Poets, DumbDumb
Sales contact: Warrior Poets, cp@warrior-poets.com
Producers: Jeremy Chilnick, Meri Haitkin, Morgan Spurlock
Executive producers: Will Arnett, Jason Bateman, Ben Silverman, Drew Buckley, Laura Caraccioli
Screenplay: Morgan Spurlock, Jeremy Chilnick.
Cinematography: Paul Dokuchitz, Matt Goodman, Daniel Marracino
Editor: Thomas M. Vogt
Music: Jingle Punks
With: Morgan Spurlock, Will Arnett, Jason Bateman, Zach Galifianakis, Jack Passion, Paul Rudd, John Waters, Kate White, Helen Fisher, Ricky Manchanda, Stefan Campbell, Scott Ian, Michael Kimmel, Carmine Pisacreta, Shawn Daivari, Brook Frank