Dir: John Gulager. US. 2012. 83mins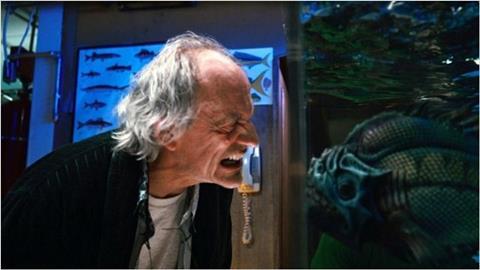 Yes, the title pretty much says it all. Piranha 3DD is an old-fashioned exploitation flick brimming with flesh-hungry piranhas whose main target happen to be those big, bouncing, boobs (hence the double-D) all presented in 3D. Fans of Alexandre Aja's equally self-conscious B-Movie Piranha 3D expecting more of the same will be disappointed, though, with this flabbily made sequel which lacks the humour, thrills and bite that made his film such a cult hit.
Christopher Lloyd, who appeared in the original, brings a much-needed dose of loopiness.
Opening in the UK three weeks before its US release – though not receiving a press screening in either country – Piranha 3DD will have a hard time slugging it out against the like of The Avengers or other action fare, and while it has an 18-certificate in the UK the gore level is actually pretty low and there is little to excite horror fans (especially when work of mouth seeps out) who are likely to stay away in their droves.
The film is directed by John Gulager (who manages to find room for a brief cameo for his veteran character actor father Clu Gulager) who seems to be wanting to find more space for spoof humour – hence the appearance of David Hasselhoff late into the film – than the thrills needed to sustain interest. He lacks the sure touch of Aja when it comes to the horror aspect of the peckish piranhas and is much more at ease when it comes to the cleavage-driven water park sequences that feel more frat-boy sexploitation than horror fare.
The film kicks off in similar fashion to Piranha 3D (or simply Piranha as it was also known) as a 'known' actor is killed off pre-titles. In Aja's film it was Jaws star Richard Dreyfuss (much more amusing and appropriate), while this time round it is Gary Busey who gets a little close contact with the prehistoric piranhas.
Then it is straight off for some cleavage action. Water Park owner Chet (David Koechner) is planning to relaunch the venue with more emphasis on skimpy bikinis as well as an adults-only nudist pool. The downside is that the park is relatively close to Lake Victoria, where the piranhas appeared in the first film two years earlier.
His marine-biologist stepdaughter Maddy (Danielle Panabaker) is naturally upset at his plans, especially when two Water Park workers go missing and she and pal Shelby (Katrina Bowden, from 30 Rock) are nearly nibbled by snarling piranhas while having a lakeside chat.
She – along with ex-boyfriend-and-now-cop Kyle (Chris Zylka) and her nerdy pal Barry (Matt Bush), a Park worker who can't swim – head off to get the advice of bonkers scientist Mr Goodman (Christopher Lloyd, who appeared in the original and brings a much-needed dose of loopiness) who has been doing research into the piranhas. Apparently they are now strong enough to break through metal…which is rather worrying given the flimsiness of the pool grates.
Before long the expected Water Park piranha invasion kicks in, and while there is a healthy blending of breasts, beasts and severed limbs at no stage is it ever scary.
But it is also cameo time. David Hasselhoff has the most fun here. Playing himself as a celebrity hired to help relaunch the Park, he has great fun in a knowingly funny performance that at times grates alongside the blood-and-gore around him. Ving Rhames, who lost his legs to the piranhas in the first film, turns up as well, this time sporting (a la Rose McGowan in Planet Terror) guns in place of his limbs, which makes it handy to start taking out the piranhas.
Danielle Panabaker offers enough serious enthusiasm to keep her thinly written role interesting enough – even though the love triangle with her, Kyle and Barry never really works – though the excellent Katrina Bowden (so impressive in 30 Rock and who worked well in horror spoof Tucker And Dale vs Evil) is rather wasted, even in her bloody set-piece scene involving how a mini-piranha makes its way onto the end of her boyfriend's penis via lovemaking.
The film feels more like a rushed straight-to-DVD sequel, which is a shame given how much fun the first film was. Rather worryingly, Piranha 3DD ends with the possibility of a sequel…it seems these prehistoric piranhas are learning how to walk.
Production companies: Dimension Films, Mark Canton/IPW, Neo Art & Logic
Producers: Mark Canton, Joel Soisson, Marc Toberoff
Executive producers: Chako van Leeuwen, Ben Ormand, Matthew Stein, Bob Weinstein, Harvey Weinstein
Co-producers: Pete Goldfinger, Josh Stolberg
Screenplay: Patrick Melton, Marcus Dunstan, Joel Soisson, based on characters created by Peter Goldfinger, Josh Stolberg.
Cinematography: Alexandre Lehmann
Editors: Martin Bernfeld, Devin C Lussier
Production designer: Ermanno Di Febo-Orsini
Music: Elia Cmiral
Website: http://piranha-3d.com/
Main cast: Danielle Panabaker, Katrina Bowden, Chris Zylka, Gary Busey, Jean-Luc Bilodeau, Christopher Lloyd, Ving Rhames, David Hasselhoff, David Koechner, Matt Bush, Meagan Tandy