Dir: Belmin Söylemez Turkey. 2012. 104mins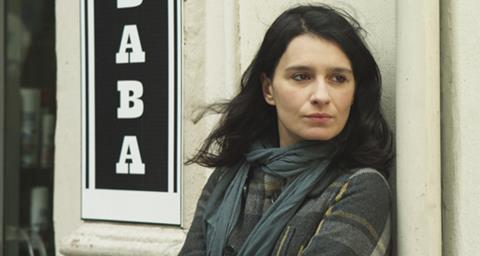 Here is a perfect example of a certain tendency in Turkish cinema to become too secretive for its own good. For its entire running time, Belmin Söylemez' first film unfolds at an even, leisurely pace, uneventful and bland, offering faint, minimalist suggestions of motives and themes which the viewer is expected to develop at his own risk, using his imagination and knowledge of the background, to round it all up. A festival item by definition, mostly addressing female audiences, its insistence to abstain from any clear statement down to the very end will turn it into a hard sell outside specialised film events.
This melancholic elegy poetically wallows in its own uncertainties.
Those who will be willing to face the challenge, will probably infer after a while that Present Tense (Simdiki Zaman) is all about the condition of women folk in a world which still considers them to be second class persons, while at the same time suggesting a sort of loose marginal society dreaming of a better future without having a very clear idea of what that may be. All of this, while in the background, Istanbul, its people and even its streets, are undergoing their own changes.
The main character, Mina (Sanem Oge, best actress at the Istanbul Film Festival 2012 for her role here), wants to go away to America. Or at least, this is what she thinks she wants. A brief pre-credits sequence shows her being photographed for the visa but until she puts all the documents in order and has all the money necessary for the trip, she squats in a dilapidated building destined to become at some stage or another a hotel in the city's bustling entertainment district, Beyoglu.
Then she gets hired as a fortune teller in a new café, though it is clear to everyone concerned, that is her employer Tayfun (Ozan Bilen) as well as the other girl Fezi (Senay Aydin) with whom she shares the responsibilities of looking into the future, that she has no idea what she is supposed to do and no previous experience whatsoever to lean on.
Undeterred, she unabashedly takes on clients, all of them female, who drink Turkish coffee, turn the cup around on its saucer and expect her to tell them, from the dreg patterns left on the bottom of the cup, everything about past, present and future. And she does it in a sort of dreamy, indecisive manner, as if she is digging deep into her own past and establishing that after all, her emotions, her hopes and her disappointments, would be shared by most of her clients anyway.
Trying to see a difference between one dreg pattern and another, or even suspect that there is anything in the entire exercise that has to do with coffee at all, is evidently preposterous. But most of her clients do not expect more in any case, they are willing to pay in order to listen to something that connects deep down with their feelings and satisfies their need to confirm them
A solitary recluse, who was abandoned as a child by her mother that she hopes to find on the other side of the Atlantic, and whose past includes an obviously bad marriage she won't talk about, Mina converts every single Lira she makes into dollars, but the way she hides these savings is either terribly naïve or intentionally irresponsible. While lackadaisically going through the necessary bureaucratic procedures necessary for her journey, she becomes close to her boss, Tayfun, who is limply and quite unsuccessfully trying to make a go of his stalled business, and to her fortune-telling colleague, whose very active romantic life includes a long line of men she had dated and separated from and whose dream is to open a café of her own in the center of town.
Mainly a mood piece, decoratively adorned by Peter Roehsler's atmospheric and creatively framed images but underexploiting the expressive potential of his lead actress, Sanem Oge, who is only too rarely allowed to come alive on screen, this melancholic elegy poetically wallows in its own uncertainties, suggesting that all its characters are drifting down to the bottom of their own unclear doubts, just like the dirty coffee cups in the picture's last frame.
Production company/sales: FilmBufe Film Production, info@filmbufe.com
Producer: Hasmet Topaloğlu
Screenplay: Belmin Söylemez, Hasmet Topaloğlu
Cinematography: Peter Roehsler
Editor: Ali Aga, Belmin Söylemez
Production designer: Revan Barlas
Music: Cenker Kokten
Main cast: Sanem Oge, Senay Aydin, Ozan BIlen