Dir: Gilles Bourdos. France. 2012. 111mins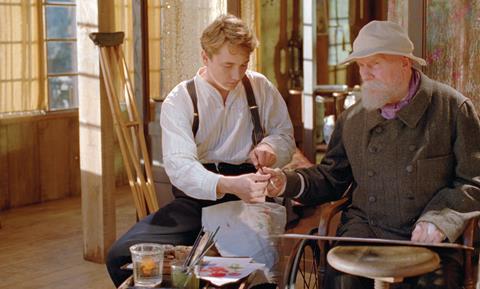 The bright Summer sunlight of the Cote d'Azur cast a golden glow over Renoir, greatly enhancing the appeal of an impeccably crafted, tenderly felt traditional period piece. Dramatising a defining moment in the lives of Pierre-August Renoir and his young son Jean, the film offers a tasteful, sensitively handled production that should readily appeal to an older demographic and to the arthouse audience who have supported similar works down the years from Camille Claudel to Seraphine.
Michel Boquet is a striking physical match for Renoir and gracefully balances his grumpy frailty with a sense of the appetite for life.
Christa There's flame-haired Andree appears at Colette's in Cagnes-sur Mer during the Summer of 1915 and remains to model for the elderly Pierre-Auguste Renoir (Michel Bouquet). Although painfully infirm, Pierre-August is determined to continue painting and Andree is both a fresh source of inspiration and a woman who wins his heart.
Renoir's son Jean (Vincent Rottiers) has been badly injured in combat, almost losing his leg to gangrene, and returns to Colettes to convalesce. He too falls under the spell of Andree, her ambitions and especially her passion for the cinema that he will eventually come to share.
Described by director Gilles Bourdos as a " Mediterranean Eden", Colettes is depicted as a place of rural sanctuary where the cares of a world at war are not expected to intrude. Bourdos tentatively strays into Terence Malick territory as he revels in the sensuousness of the way the wind rustles through a field of wild grasses or water gently laps at feet as people stroll along a seashore.
This is a film of warm visual allure as evening feasts unfold by the glow of camp fires, houses are lit by oil lamps and lazy picnics recreate all the colours and life in Renoir's painting The Bathers.
The heart of the film is the complex relationship between father and son. Pierre-Auguste may be haunted by the loss of his younger wife and fearful of what might befall two of his sons serving during World War 1, but painting is still his life. Faithful servants carefully tend to his gnarled hands, twisted in agony with arthritis. " Pain passes, " he asserts. " Beauty remains."
The 21 year-old Jean seems adrift with " neither dreams, nor ambitions" and a father whose reputation weighs heavily upon him. Filmmaking seems the unlikeliest medium in which to express himself especially when one character snootily declares: " cinema is not for us French".
Michel Boquet is a striking physical match for Renoir and gracefully balances his grumpy frailty with a sense of the appetite for life that still rests within his weary bones. Vincent Rottiers is considerably more dashing than the real Jean Renoir but his baby-faced looks merely adds to the sense of a young man in the shadows of his legendary father.
Christa Theret invests Andree with enough volatility to suggest why she would beguile both of the Renoirs and perhaps why she would eventually die poor and forgotten in the same year that the celebrated Jean Renoir died in Hollywood.
Production companies: Wild Bunch, Mars Films, France 2 Cinema
Producers: Olivier Delbosc, Marc Missonnier
Executve producer: Christine De Jekel
International sales: Wild Bunch, www.wildbunch.biz
Screenplay: Jerome Tonnerre, Gilles Bourdos, Michel Spinosa from the book Le Tableau Amoureux by Jacques Renoir
Cinematography: Mark Ping Bing Lee
Editor: Yannick Kergoat
Production design: Benoit Barouh
Music: Alexandre Desplat
Main cast: Michel Bouquet, Christa Theret, Vincent Rottiers, Thomas Doret, Romane Bohringer