Dir/scr: Naoko Ogigami. Japan. 2012. 110mins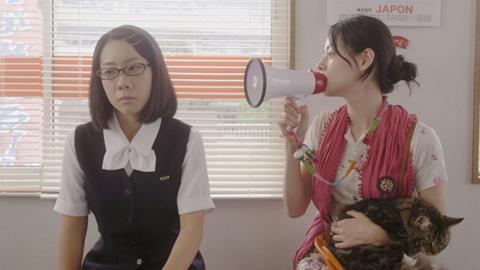 A gentle charmer of a film, Rent-a-Cat (Rentaneko) wallows in its quirky feline fun as it dwells on loneliness and cute kittens, and while perhaps never as laugh-out-loud as it might appear on the surface it is engaging entertainment, with the large variety of moggies well trained and lead actress Maikako Ichokawa a strong presence in amidst all of the animals.
The quirky humour and engaging comedy performances help make it extremely watchable.
Animal movies have a way of striking a chord with audiences and combined with writer/director Naoko Ogigami's trademark idiosyncratic sense of humour, the film could prove to be popular in Japan and of interest to niche buyers. It may appear too mainstream for some festivals (despite the fact it screened in Panorama at Berlin this year), though it shouldn't be overlooked.
Sayoko (Ichikawa) lives alone in her cluttered little house with a horde of cats of different shapes and sizes. The animals are attracted to her, and every day she walks along the banks of her local rival with the cats in a small handcart, and with a megaphone in hand calls out "rent…a…cat". She ends up renting a few of her animals to lonely people who appreciate the company.
Of course, Sayoko is lonely herself and worried that all she attracts is cats. On the wall of her cottage is a poster she has painted that says "This year I will get married."
The structure is fairly straightforward. She rents out cats to various lonely and needy folk; gets insulted by her oddball neighbour and various random schoolchildren, and eventually meets up with a young man from her past. But it is handled in a slow and deliberate manner – the film is perhaps a bit too long – though punctuated with some clever and funny moments.
Perhaps nicest of all is her dream scene in which she imagines visiting a Japon Rent-a-Cat office where cats are rented out in three price zones, and riles that crossbreeds are lumped in the cheaper number three category. With her character's megaphone and cart full of cats, Mikako Ichikawa is a bright and energetic presence and offers up the right blend of quirkiness and soulfulness as the sad cat-lover.
Despite that the fact that the story is pretty modest and simple, the quirky humour and engaging comedy performances help make it extremely watchable…and the cats are pretty cute too.
Production company: Paradise Cafe Inc.
International sales: Nikkatsu Corporation, www.nikkatsu.co.jp
Producers: Kumi Kobata, Shuichi Komuro, Akira Kubota
Executive producers: Hiroaki Kirtano, Haruhisa Murokawa, Mitsuru Ohshima
Cinematography: Kazutaka Abe
Editor: Shinichi Fushima
Music: Kosuke Ito
Main cast: Mikako Ichikawa, Reiko Kusamura, Ken Mitsuishi, Maho Yamada, Kei Tanaka, Katsyua Kobayashi