Dir: Carlos Saldanha. US. 2011. 96mins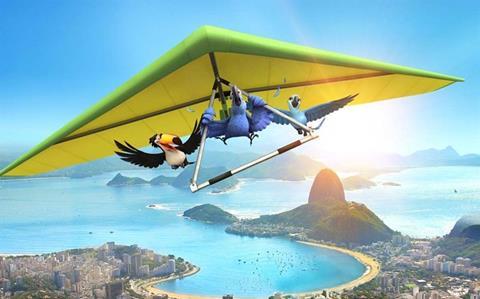 The colourful music and rhythms of the glamorous Brazilian city of Rio de Janeiro are beautifully captured in Fox's latest 3-D animated film Rio, which is blessed with such old-fashioned action, music and vibrant adventure that it should prove to be a box office winner.
Opening in the UK and Australia prior to its US release on April 15, the film is directed by Brazilian-born Carlos Saldanha – who co-directed or directed Fox's animated Ice Age films as well as Robots – and with its hot young vocal cast (Anne Hathaway and Jesse Eisenberg) and savvy music links (Jamie Foxx and will.i.am) it looks set to be a strong Easter performer, with only Hop as its animated rival.
The 3-D effects go a great way to enhance to storyline, which makes the most of the dramatic Rio de Janeiro backdrop – in fact the film is a virtual promotion for movie locations in the city and should also help boost tourism – with the technology enhancing the colour and dynamism of the backgrounds.
The film opens in the jungles of Brazil with a musical set-piece number in amidst a throng of birds. A newly hatched blue Macaw is about to take his first step from the nest and start to fly when he is captured by animal smugglers. Shipped off to the US, his crate is accidentally dislodged in transit and he finds himself in the snowy small town of Moose Lake, Minnesota, where he is rescued by a young girl named Linda.
Several years later and a grown-up Linda (voiced by Leslie Mann) and an adult Blu (Jesse Eisenberg) live happily together, based out of the bookshop she runs. He is completely domesticated – makes coffee and brushes his teeth – but has never learned to fly, instead favouring skateboards as a mode of transport.
Their lives of turned upside down, though, with the arrival of Tulio (Rodrigo Santoro) a Brazilian scientist who tells her that Blu is the last male of his kind, and that he wants Blu to come to Rio to 'meet' Jewel, the last blue female Macaw.
After much deliberation Linda and Blu head to Rio, but the 'date' between Blue and Jewel (Anne Hathaway) is less than successful. She is an independent and outspoken bird, while Blu is happy in a cage.
But his life changes again when the pair are kidnapped by animal smugglers, whose main henchman is a Cockatoo named Nigel (voiced by Flight Of The Conchords star Jemaine Clement), an ex-soap opera star who holds a grudge after losing out in his media career. Blu and Jewel are chained together, but manage to escape – though this is rather difficult given Blu's inability to fly – and head off into the city to try and find help.
Their adventures as they are chased by the smugglers allows plenty of time for a spectacular tour around Rio de Janeiro, with backdrops including the massive Christ the Redeemer statue that looks down over the city, Sugarloaf Mountain, the Santa Teresa Tram, the Maracana football stadium, the Copacabana Beach and the favellas, and with their adventures ending up amidst the dancing throngs taking part in the city's annual – and very serious – carnival celebrations.
They are aided in their adventures by a Canary named Nico (Jamie Foxx), a Cardinal named Pedro (Black Eyed Peas star will.i.am) and a Toucan named Rafael (George Lopez), and even a bulldog named Luiz (30 Rock star Tracy Jordan) who wants nothing more than to dance in carnival.
The 3-D work to great effect in Rio, enabling a proper submersive effect as the viewer is dropped into the vibrancy of the city. It works especially well as the Macaws hitch a lift with a paraglider as he drifts over the city, and in the climactic scenes in amidst the revelry of carnival.
Jesse Eisenberg offers the perfect nerdy voice of an animal brought up to love the caged lifestyle of a city bird, while Anne Hathaway's passion and liveliness suits Jewel perfectly. Jemaine Clement perhaps has the most fun as the evil Nigel (so evil that he even eats chicken) while Jamie Foxx and will.i.am are cool and charming as the duo that help Blu and Jewel, with the pair also delivering on the music front for the toe-tapping soundtrack.
Over the holiday period Rio should find a happy home at cinemas keen to attract the family audiences, offering up plenty of jokes, action, music and magical moments to keep the young ones engrossed and parents wondering if a holiday to Brazil could be affordable.
Production companies: Twenty Century Fox, Blue Sky Studios
International distribution: Twenty Century Fox
Producers: Bruce Anderson, John C Donkin
Executive producer: Chris Wedge
Screenplay: Don Rhymer and Sam Harper & Jeffrey Ventimilla and Sam Harper, based on a story by Carlos Saldanha and Earl Richey Jones & Todd Jones
Cinematography: Renato Falcao
Editor: Harry Hitner
Music: John Powell
Website: www.rio-themovie.com
Main cast: (voices) Anne Hathaway, Jesse Eisenberg, Jamie Foxx, Jemaine Clement, Leslie Mann, Tracy Morgan, will.a.am, Rodrigo Santoro, George Lopez, Jake T Austin