Dir: Xavier Giannoli. France-Belgium. 2012. 112mins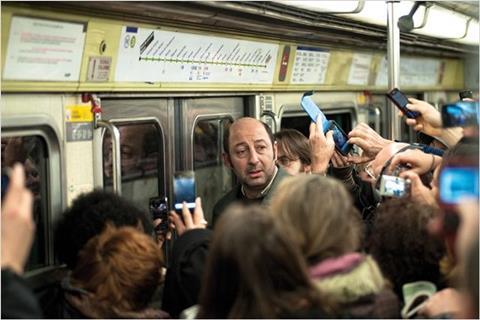 Xavier Giannoli (In the Beginning, The Singer) endeavours with mixed results to give France a Network or A Face In The Crowd for the 21st century in Superstar, a bittersweet reflection on celebrity.
It's a potentially powerful, pertinent premise but the story inevitably deflates somewhat after the first hour or so.
While this earnest look at a schleppy bachelor struggling to cope with the non-stop fallout from viral completely inexplicable nationwide notoriety may strike many as obvious — even tired — in its themes, it so happens that hollow, media-stoked fame as applied to French people is an underexplored topic.
Competing in Venice, this uneven satire of how the media and public opinion respond to and exploit those who are famous-for-being-famous is an August 29 release in France, where the welcome should be warm, not least of all because the central hangdog nebbish is played by Kad Merad.
Merad, who co-starred in Dany Boon's comic juggernaut Welcome To The Sticks also has a track record in straight roles. This character, one Martin Kazinski, a balding 43-year-old Everyman, is well suited to his talents, such as they are.
The first 40 minutes or so consist of flashbacks from the set of a French TV show, telecast live at 10pm, as beleaguered guest Martin tries to figure out why oh why he became a household name from one minute to the next.Just getting from his Paris hotel to the studio feels like a possible replay of Princess Diana's fateful final trip with paparazzi on motorcycles crowding the car containing Martin and his handler-cum-confidante, Fleur (Cecile De France), a staffer for the TV show.
We learn that Martin is a supervisor at a firm that employs mentally and developmentally challenged adults to pick apart electronic goods for recycling. He's an honest, utterly ordinary man, modest in looks, means, ambition and prospects.
One morning like any other, he takes the Metro only to be assailed by attention from his fellow passengers who demand autographs and snap his photo with cell phones. Everybody knows him by name, they're thrilled to be in his orbit and he has no idea why. Why him? Why now? What for? He doesn't have a Facebook page but everybody knows his face. The attention sends him into a panic.
The basic idea is a kissing cousin to the segment in Woody Allen's To Rome With Love that finds Roberto Benigni wildly famous — also for no reason and also from one day to the next.
While that was played almost entirely for laughs, Martin sees no conceivable upside to his situation and plaintively, unreservedly wants his privacy restored. In the interconnected digital world, Martin's unsought fame means his every move is open to blind worship or damaging misinterpretation.
Fleur hates to see Martin being harassed and exploited, yet sees the entertainment value of the poor guy's absurd dilemma. She's also sleeping with her married boss, the show's director Jean-Baptiste (a casually imperious Louis-Do de Lencquesaing).
Although what the English-speaking world knows as "political correctness" in language doesn't carry much weight in France, when the host Alban (one-named humourist, Ben) describes Martin as "banal" - and make no mistake, he IS banal - all hell breaks loose. Now people identify with him because they're banal, too.
The flames of fame are fanned ever brighter. And when Martin spontaneously creates his version of Howard Beale's "mad as hell and not going to take it anymore," well, that too, catches on. There's no exit. Or is there?
It's a potentially powerful, pertinent premise but the story inevitably deflates somewhat after the first hour or so, although the steps by which Martin's fame morphs from pointless adulation into something else entirely are rendered with organic flair.
The entire cast is good, with special marks for put-upon Merad and for Alberto Sorbelli as Alberto, a cross-dressing performance artist who befriends Martin backstage. The score has a respectful, near-liturgical feel much of the time.
Production companies: Rectangle Productions, Wild Bunch, Studio 37, France 3 Cinema, Scope Pictures
International sales: Wild Bunch, www.wildbunch.biz
Producer: Edouard Weil
Screenplay: Xavier Giannoli, Marcia Romano, freely inspired by the book L'Idole by Serge Joncour
Cinematography: Christophe Beaucarne
Production designer: François-Renaud Labarthe
Editor: Celia Lafite Dupont
Music: Mathieu Blanc-Francard
Website: www.superstar-lefilm.com
Main cast: Kad Merad, Cecile De France, Louis-Do de Lencquesaing, Ben, Alberto Sorbelli, Mathias Camberlein