Dirs: Danny & Oxide Pang. China. 2010. 96mins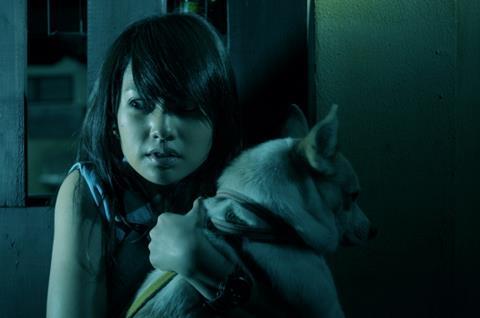 While the script of cult directors Danny and Oxide Pang's 3D horror movie is a strictly by-the-numbers affair, there are more than a few nicely set-up 3D moments and a healthy moment of surreal filmmaking in amidst the film's horror-in-a-hotel tale.
Naturally enough there is a ghostly woman with long dark hair – a staple in such films.
Unlikely to play on the big screen outside of Asia and the circuit of genre festivals, The Child's Eye is likely destined for a life in home entertainment, but despite that it has a certain horror kitsch charm that makes it worth seeking out for 3D horror completists.
While on holiday in Bangkok, three couples from Hong Kong find themselves caught up in violent political riots in the city (cue a nice 3D shot of a gas grenade being shot at the camera) and take refuge in a sleazy hotel run by the dubious looking Cheun (Lam Ka Tung).
When the guys go missing it is up to the girls – particularly Rainie Yang - to try and find them, joining forces with a little girl and her feisty dog. It turns out the mutt can spot the monsters in amidst the murk…which is rather handy.
Naturally enough there is a ghostly woman with long dark hair – a staple in such films – and also (and rather amusingly) a feral child with face and paws of a dog. Okay so it is supposed to be scary, but as Rainie hides from the hellish hound and also muzzles her own heroic canine you can't help but laugh.
And just when the story looks set to descend into cliché hell, the Pangs come up with a series of beautifully sustained scenes as Rainie enters a strange computer generated fantasy world made up of giant toys. It nicely breaks away from the horror gloom for a while, but before you know it we are back in the hotel and a showdown with the ghostly woman, a full explanation of the back-story and the obligatory happy ending.
Hong Kong actor/singer/model Shawn Yue is called on the do little but appear moody and then vanish for the majority of the film, leaving Taiwanese singer Rainie Yang (who handily has the same first name as her character) to shoulder the main thesping responsibilities, which she does very well.
Production companies: Universe Entertainment, Orange Sky, Golden Harvest Entertainment, Enable Films
International sales: Universe Films Distribution, wwwu333.com
Producers: Alvin Lam, Danny Pang, Oxide Pang
Executive producer: Kebo Wu
Screenplay: Danny Pang, Oxide Pang, Pak Sing Pang
Cinematography: Decha Srimantra
Editor: Curan Pang
Music: Origin Kampanee
Main cast: Rainie Yang, Elanne Kwong, Lam Ka Tung, Jo Koo, Ciwi Lam, Izz Xu, Rex Ho, Shawn Yue