Dir/scr: Bertrand Blier. France. 2010. 87mins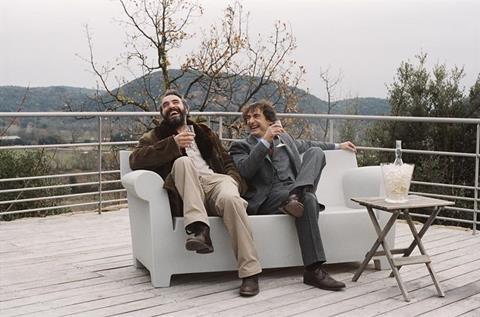 Politically incorrect iconoclast Bertrand Blier puts an irreverent spin on Ingmar Bergman's elegant conceit of playing chess with Death inThe Clink of Ice. When an alcoholic writer's cancer literally announces itself - in the form of a suit-clad man (Albert Dupontel) who invites himself in with "Hello, I'm your Cancer… I thought we should get acquainted" - successful but depressed author Charles (Jean Dujardin) shares an ever-present bottle of chilled white wine with his personal not-entirely-grim reaper before fighting back with the help of his live-in maid, Louisa (Anne Alvaro).
For much of its brief running time, the film is closer to a hermetic intellectual exercise than an emotional venture.
In this stylised romp, the well-cast central trio runs with Blier's distinctive dialogue, making the most outlandish situations feel matter-of-fact. The film, which is Venice Days sidebar opening title, opened in France on August 25.
Viewers who are allergic to Blier's trademark social commentary by way of absurdist hijinks (1978 Oscar-winner Get Out Your Handkerchiefs; Tenue de soirée and Too Beautiful for You in the 1970s and '80s, and less-appreciated fare in the past decade) will probably not be won over by this outing set mostly in a villa in France's Cévennes mountain region, but fans will find much to enjoy. Quite possibly the film will further wear down the lingering French taboo about openly discussing cancer. (French obituaries still routinely state that someone died "after a long illness.")
One can't help but admire the chutzpah of the film's central conceit: the conceptual flourish of having Cancer come to call like a particularly pesky door-to-door salesman who won't leave until you agree to buy a brain tumour or a metastasised pancreas. Although Death has appeared in human form in other films (The Seventh Seal, Meet Joe Black, etc.) the tone employed here - pragmatically nasty tinged with camaraderie - feels original. Only the cancer sufferer and those who truly love him or her can "see" the cancer.
The usually ultra-fit and youthfully energetic Dujardin (OSS 117), burdened with a slight paunch and greying hair, and Dupontel (Vincent Cassel's pal in Irreversible) are both versatile and popular entertainers with considerable range. Blier's dialogue is slightly special in the manner of David Mamet's and it takes actors this sharp to deliver it with no-nonsense authority. Stage-trained Alvaro, who lit up Agnes Jaoui's The Taste of Others, is splendid in every register.
Very early on, Charles addresses the camera to admit that the story has to hold up to scrutiny and that while a few difficulties are to be expected it's overkill for his character to be dealing with his wife's desertion (she walked out on him years prior; he hasn't written a word since) AND the onset of cancer. Then Blier blithely cooks up yet more obstacles to health and happiness.
The bottle and ice bucket accompany Charles absolutely everywhere, including to the bathroom, with the clink of ice cubes the chimes of his passing hours. Is it possible to beat Cancer, cheat Death and live to see another, brighter day?
When Louisa is visited by her own Cancer (Myriam Boyer, simultaneously jaunty and sinister), it turns out there's a social hierarchy right down to what your cancer looks like in human form depending on whether you're a servant or an employer. Creatively staged sexual encounters are absolutely crucial to the plot, with a few funny tableaux courtesy of one's cancer always being nearby.
For much of its brief running time, the film is closer to a hermetic intellectual exercise than an emotional venture. But just as the movie seems to be treading water, an interesting wrinkle arises and matters pick up considerably en route to a peppy conclusion.
With music plucked from the repertoires of Ravel and Handel as well as Leonard Cohen and Jacques Brel, the score provides literal counterpoint to the characters' antics.
Production companies: Thelma Films, Manchester Films, Wild Bunch, France 2 Cinema, Hérodiade, Plateau A
International sales: Wild Bunch www.wildbunch.biz
Producers: Christine Gozlan, Catherine Bozorgan
Cinematography: François Catonné
Production designer: Patrick Dutertre
Editor: Marion Monestier
Website: www.lebruitdesglacons.com
Main cast: Jean Dujardin, Albert Dupontel, Anne Alvaro, Myriam Boyer