Dir: Péter Bergendy. Hungary. 2012. 89mins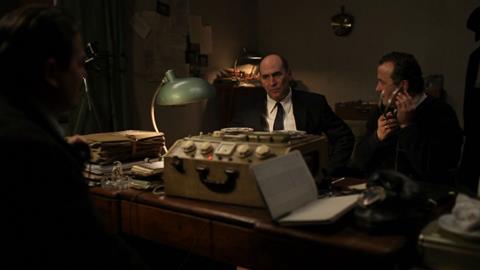 With a admirably taut atmosphere, Hungarian effort The Exam (A Vizsga) is a slick and polished genre piece that recently received it international premiere in the East of the West competition at Karlovy Vary.
There's plenty of style on show here.
In communist Hungary during the end of the 1950s, András Jung is a National Security officer living in an undercover apartment posing as a teacher. Unbeknownst to him, his mentor Pál Marko is watching and listening to his every move in a flat across the street. Jung is undergoing a secret test to prove his loyalty to the state. Everything is running smoothly until Jung is shown to have a lover (who may be also be a counter-revolutionary.) As the night goes on, secrets will be revealed about all those involved.
There's plenty of style on show here with some sumptuous set design that captures the art deco grandeur reserved for those who were in favour with the Soviet state.
It's made all the more impressive when you consider much of the film is centred around one location as Bergendy stages some good action set pieces and cinematographer Zsolt Tóth manages to create a great sense of the claustrophobic. The acting is also commendable, with Nagy being ambiguous enough to create mystery and Kulka bringing a commanding presence as the elder NS officer.
Genre savvy fans may work out some of the twists long before they're unravelled and the film isn't really doing anything new, but with the likes of Tinker Tailor Soldier Spy proving that paranoid chic is currently popular, it may pique the interest for arthouse distributors looking for a polished thriller to add to their slate.
Production company: Unio Film
International sales: Magyar Filmunió, http://filmunio.hu
Producer: István Bodzsár
Screenplay: Norbert Köbli
Cinematography: Zsolt Tóth
Editor: István Király
Main cast: János Kulka, Zsolt Nagy, Gabriella Hámori, Péter Scherer