Dir/scr: Tom Six. UK. 2011 85mins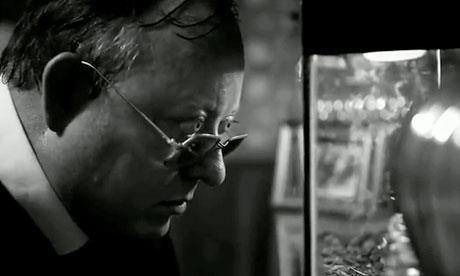 With The Human Centipede (First Sequence), writer-director Tom Six added another concept to the world's repertoire of grossness, inspiring a South Park episode ('The Human Cent-iPad'), many cartoons, a wax museum exhibit and other pop culture fall-out disproportionate to the film's fairly ordinary mad science experiment plot.
It's a comic gross-out rather than an endurance test, and managed with some style and – even – subtlety.
This Part Two, the second part in a projected triptych, is not a conventional sequel, in that it opens by literally pulling back from the climax of the first film to find its biggest, most demented fan – Martin (Lawrence P. Harvey), security guard on the night shift in an underground car park – and follows him as his obsession with the movie spurs him on a bizarre quest to exceed it by creating his own human centipede with twelve (as opposed to the original three) links, including a starlet (Ashlynn Yennie) who appeared in The Human Centipede and is lured to Martin's derelict warehouse lair by the promise of an audition for Quentin Tarantino.
A controversial film, which was initially rejected outright by the BBFC, this has been cut by two minutes and 37 seconds for UK release. Other territories (Australia) will see the full version, and doubtless many British horror aficionados will choose to legally (or otherwise) source Six's original cut in preference to experiencing the bowdlerised version (which does have notable lacunae, especially in the grand guignol climax).
It's a shame the film has been prejudged on the basis of the blunt descriptions of the offensive scenes issued by the censors because most of its shorn atrocities – aside from an ill-judged venture into Serbian Film territory involving a new-born baby – are deliberately over the top and contribute to the film's queasy, blackly comic vision of the interior world of a psychopath who may or may not actually act out his fantasies (as in American Psycho, it's ambiguous as to how much of what we see is the protagonist's imagination).
Featuring a remarkable, wordless performance from Harvey – who will, like Dieter Laser in the first film, benefit from this exposure if he wants to pursue a career in screen villainy – and shrill, one-note hectoring from all the supporting segments, this is plainly a cartoon world where mostly horrible people suffer. It's a comic gross-out rather than an endurance test, and managed with some style and – even – subtlety.
David Meadows's black and white cinematography is noirishly impressive and Dan Martin's special effects – which include an innovative punishment involving a funnel and a very, very hungry non-human centipede – are gruesomely good for a low-budget horror. A Human Centipede 3 (Final Sequence) is promised – threatened? – for 2013.
Production companies: Bounty Films, Eureka Entertainment
Producers: Ilona Six, Tom Six
Cinematography: David Meadows
Music: James Edward Barker
Main cast: Lawrence P. Harvey, Ashlynn Yennie, Emma Lock, Katherine Templar, Maddi Black, Bill Hutchens, Dominic Borrelli