Dir: Luc Besson. France-UK. 2011. 143mins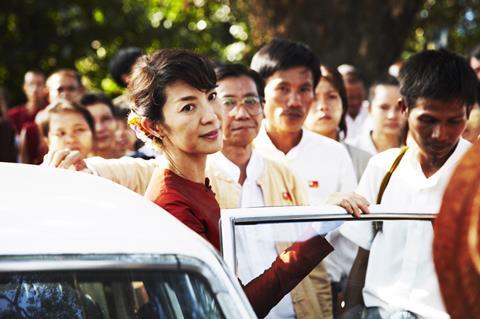 Luc Besson's epic re-telling of the life of Burmese leader and activist Aung San Suu Kyi is an impressively mounted film featuring a stunning lead performance from Michelle Yeoh that deserves awards attention. The film, though, is perhaps too linear and pedestrian – and too long – to attract mainstream audiences, though her life is nothing if not dramatic and inspirational.
Michelle Yeoh, so often the action-woman in martial arts films, is quite stunning in the lead role.
It marks an intriguing change of direction for Besson – who has tended to specailise in genre films – though he would have been better served to edit more stringently. Especially given the fact that for the majority of the film Aung San Suu Kyi spent her time in Burma under house arrest while her husband Michael Aris (David Thewlis) spent his time campaigning to get her freed. Their two stories run side-by-side to chart the story both a country and its possible saviour.
The opening scene-setter details the assassination in 1947 of Suu Kyi's father, Gen. Aung San, who had helped liberate Burma from the British and who was trying to establish a new order. The story then switches to 1988 where Suu Kyi is living in Oxford with her academic husband Michael and their two young sons, Kim and Alex. With her mother ailing she returns to Rangoon to be by her side, but ends up witnessing increasing civil unrest and army brutality.
University professors ask her to stay in Rangoon and lead the emergent National League for Democracy, and when her popularity increases the military government place her under house arrest rather than martyr her. For the next 15 years she remains in her family home with increasingly infrequent visits from Aris and children and little access to phones or any kind of outside communication.
Much of the film is taken up with Aris and children either going back and forth – or attempting to visas – to Burma, balanced against Suu Kyi's various discussions with supporters and speeches. But the key drama comes as Aris is diagnosed with Cancer – the couple clearly love each other, but he refuses to ask her to come home to England, realising that her cause for cause is more important.
Rebecca's Frayn's screenplay is rich on emotion and fact, but while moving the story lacks enough drama to sustain its hefty 143-minute running time. But The Lady remains a powerful, classy and dignified film – a little like Aung San Suu Kyi herself – and is elegantly made (with locations in Thailand standing in for Burma) and punctuated by a series of fine performances.
Michelle Yeoh, so often the action-woman in martial arts films, is quite stunning in the lead role. She is glacially beautiful, elegantly poised and offering such an innate intelligence that she completely convinces as Suu Kyi. The film does have its moving moments but at its tender and challenging heart is Michelle Yeoh, whose performance deserves to be recognised in awards season.
Production companies: EuropaCorp, Left Bank Pictures, France 2 Cinema, Canal Plus, France 2 Cinema, Telecine
International sales: EuropaCorp
Producers: Virginie Besson-Silla, Andy Harries
Screenplay: Rebecca Frayn
Cinematography: Thierry Arbogast
Editor, Julien Rey
Production designer: Hugues Tissandier
Music: Eric Serra
Main cast: Michelle Yeoh, David Thewlis, Jonathan Raggett, Jonathan Woodhouse, Susan Wooldridge, Benedict Wong, Htun Lin, Agga Poechit