Dir: Tiller Russell. US. 2010. 84mins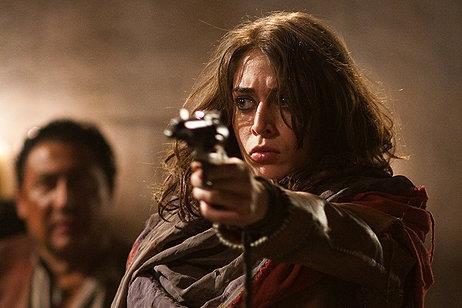 The western has long been considered an unfashionable genre and The Last Rites Of Ransom Pride will do nothing to change that. Documentary director Tiller Russell's first fictional feature aims for a stylised gothic revenge oater in the manner of Sam Peckinpah or Sergio Leone but falls well short of the mark thanks to muddled plotting, hammy acting and a sledgehammer style that overindulges a fondness for jump cuts and muddy, colour-saturated flashbacks.
The feverish storyline eventually lurches into David Lynch territory.
The Last Rites, which premiered at the Edinburgh International Film Festival, might just scrape a future in ancillary markets but theatrically it will be consigned to Boot Hill.
When outlaw Ransom Pride (Scott Speedman) is shot dead in the Mexico of the 1910s, his lover Juliet Flowers (Lizzy Caplan) vows to return his body to Texas. The evil Bruja (Cote De Pablo) demands an act of atonement for the shooting of a priest, prompting Juliet to offer her Ransom's brother Champ (Jon Foster) in exchange for Ransom's body.
It is the first act in a chain of vengeance and bloodshed that also involves Ransom's obsessive father The Reverend (an unconvincing Dwight Yoakam).
Punctuated by bursts of action, bizarre non sequiturs and numerous shots of blanched bones in a barren desert, the feverish storyline eventually lurches into David Lynch territory with the introduction of opium-addicted Siamese twins and philosophical circus showman The Dwarf (Peter Dinklage) but neither their appearance nor the frequently risible dialogue is enough to nudge the film towards the cult status that it seems to crave.
Production company/International sales: Horsethief Pictures, 1 512 499 8176
Producers: Duncan Montgomery, Chad Oakes, Michael Frislev
Screenplay: Tiller Russell, Ray Wylie Hubbard
Cinematography: Roger Vernon
Website: www.lastritesfilm.com
Main cast: Lizzy Kaplan, Dwight Yoakam, Jon Foster, Cote de Pablo, Jason Priestley, Kris Kristofferson, Peter Dinklage