Dir/scr: Agusti Vila. Spain. 2010. 95mins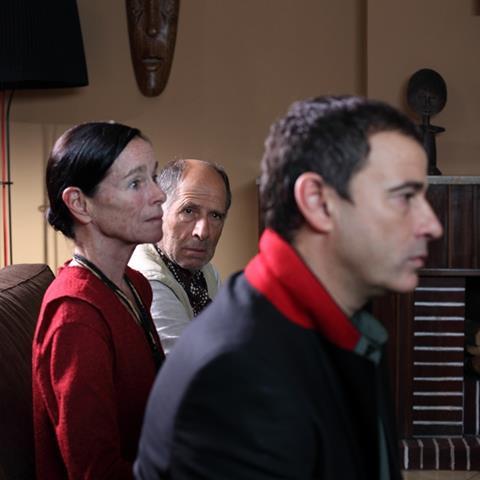 Aiming for surrealism, dark comedy and mild sexual perversity, Agusti Vila's misfiring film The Mosquito Net fails to engage apart from odd moments. Showing in the main competition section of the Karlovy Vary Film Festival, it is unlikely to attract distribution outside Spanish-speaking territories, though the casting of a silent Geraldine Chaplin may intrigue festival programmers.
Martina Garcia at least gives the film some warmth and poise.
Things begin interestingly enough. Alicia (Emma Suarez) and husband Miguel (Eduard Fernandez) share their flat with son Luis (Marcos Franz) and his increasing menagerie of cats and dogs. But their relationship is fractured and she asks him to leave.
He takes up with their beautiful former cleaner Ana (Martina Garcia, seen in Alejandro Gonzalez Inarritu's Biutiful), wooing her with money and pink rubber gloves (linked to his modest sexual perversion). Alicia, meanwhile, finds herself drawn to a handsome friend (Alex Batllori) of her son, and starts an ill-judged sexual relationship with him.
Add into the mix a subplot involving Alicia's best friend (played nicely by Anna Ycobalzeta) who emotionally and later physically abuses her own young daughter, and the gloomy relationship Miguel has with his suicidal parents (Geraldine Chaplin and Fermi Reixach) and you have a series of intriguing moments in search of a consistent story.
The sexuality (especially in the case of Alicia's affair) lapses into the abusive, and while it is always nice to see Geraldine Chaplin on the screen, not enough is made of the few scenes she has as the unspeaking Alzheimer's sufferer. Martina Garcia at least gives the film some warmth and poise.
Only in the final scene as this dysfunctional bunch of characters gather for some kind communal dinner and ignore knocks on the door do we get a spark of surreal humour that writer-director Agusti Vila was striving for. But it is all a little too late at that stage.
Production company/contact: Eddie Saeta SA, eddie@eddiesaeta.com
Producer: Luis Minarro
Cinematography: Neus Olle
Editor: Marti Roca
Production designer: Leo Casamitjana
Music: Alfond Conde
Main cast: Emma Suarez, Eduard Fernandez, Martina Garcia, Geraldine Chaplin, Marcos Franz, Alex Batllori