Dir: Jean Dujardin & Gilles Lellouche, Emanuelle Bercot, Fred Cavayè, Alexandre Courtès, Michel Hazanavicius, Eric Lartigau. France. 2012. 108mins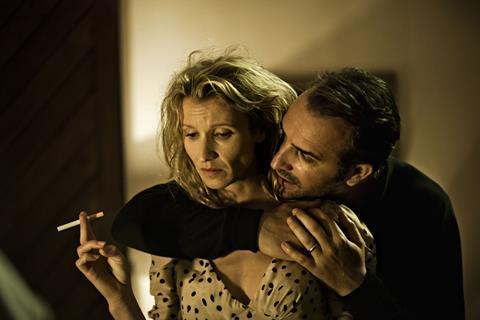 An uneven medley of free-standing sketches about unrepentant adulterers in which co-conspirators Jean Dujardin and Gilles Lellouche are obviously having a blast, The Players (Les Infidéles) is consistently vulgar, often funny, occasionally touching and deeply, deeply French. Based on an idea by Dujardin - whose undeniable charm in The Artist is but one facet of his roles to date - this omnibus gives Dujardin and Lellouche the opportunity to be directed by a lip-smacking cross section of French directing talent, at least on paper.
Michel Hazanavicius delivers a touching segment in which a slightly ostracised businessman played by Dujardin tries his best to get laid on the last night of a company conference.
The so-called scandalous posters that were pulled after less than a week were an honest reflection of the film's themes. With crudity outweighing finesse, the film doesn't condone unfaithfulness or excess but rather skewers bad behaviour by married men who see cheating as a male prerogative.
French audiences will almost certainly display curiosity for this Febuary 29th release. The average French viewer will take in stride the unflattering poses its lead duo strikes, from strenuous whoring to strenuous masturbation in the context of tales that mock the mostly pathetic antics of men oblivious to their own inherent ridiculousness.
The best of the bunch are The Question, directed by Emmanuelle Bercot (the only woman among the seven directors) in which Dujardin and his real life spouse Alexandra Lamy go for their respective jugulars on the question of marital fidelity; and Alexandre Courtès' comical Unfaithful Anonymous in which a delectably deadpan Sandrine Kiberlain runs a support group for men who are addicted to cheating. ("Sorry I'm late," says the last to arrive, "but I was jerking off.")
Michel Hazanavicius delivers a touching segment in which a slightly ostracised businessman played by Dujardin tries his best to get laid on the last night of a company conference away from home.
Dujardin briefly revisits the tone of his wildly popular surfer dude, Brice (from Brice de Nice) as benignly brain dead serial partier James in the melancholy sketch Lolita directed by Eric Lartigau. Lellouche plays a married orthodontist smitten with a student not yet out of her teens. The girl's cavalier attitude toward his largesse and her youthful preference for noisy clubs over luxury hotel suites wears him out and stretches his excuse-generating credibility at home.
Interstitial gags, directed by Courtès, are crass but funny provided you agree a guy at the emergency room with his penis stuck in a woman's vagina who tells his wife "This isn't what it looks like - I don't even know this person" is giggle-worthy. The humour puts one in mind of the Deep Throat scene where a woman on whom cunnilingus is being performed lights up a cigarette asking, "Do you mind if I smoke while you eat?"
Elsewhere, Guillaume Canet's preppy adulterer sports a rather hilarious hair-do that is inherently funny to local audiences who know the real Canet wouldn't look that way in a million years.
The prologue, directed by Fred Cavayé, sets the tone of married men pushing 40 who want to blow off steam. Cavayé (Pour Elle ) gave Lellouche leading man status in his remake-ready everyman thriller A Bout Portant.. Fred (Dujardin) and Greg (Lellouche) also return with a bang in the closing bookend.
While not in remotely good taste, this final segment, co-directed by Dujardin and Lellouche and shot on location in Las Vegas, is not shy about its semi-jaw-dropping punchline.
What the English-speaking world would categorise as the opposite of a smart career move proves that Dujardin and Lellouche are happy to make a movie with their pals, unconcerned about hypothetical damage to their respective images and confident that their countrymen will take the politically incorrect exercise in the spirit it's meant.
Foreign distributors who emphasise that this is the new film with the guy who starred in The Artist (how about: "Jean Dujardin As You've Never Seen Him Before!") will be playing with fire, since Uggie the dog almost certainly conducts his sex life with more discretion than the dopes on display here.
Production companies: JD Prod, Black Dynamite Films
International sales: Wild Bunch, www.wildbunch.biz
Producers: Jean Dujardin, Guillaume Lacroix, Eric Hannezo
Screenplay: Jean Dujardin, Gilles Lellouche, Stephane Joly, Philippe Caveriviere, Nicolas Bedos, based on an original idea by Dujardin
Cinematography: Guillaume Schiffman
Production designer: Maamar Ech-Cheikh
Editor: Anny Danché
Music: Evgueni & Sacha Galperine
Main cast: Jean Dujardin, Gilles Lellouche, Alexandra Lamy, Guillaume Canet, Sandrine Kiberlain, Isabelle Nanty, Geraldine Nakache, Manu Payet, Clara Ponsot
Las Vegas directed by Jean Dujardin & Gilles Lellouche
The Question directed by Emmanuelle Bercot
Prologue directed by Fred Cavayé
Unfaithful Anonymous and interstitial gags directed by Alexandre Courtès
A Clear Conscience directed by Michel Hazanavicius
Lolita directed by Eric Lartigau