Dir: Damien Odoul. France. 2012. 81mins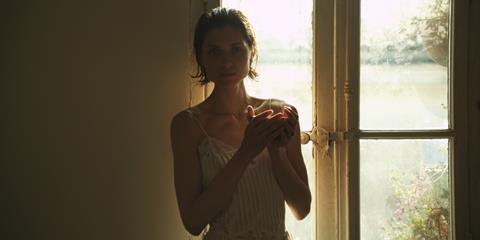 You can always rely on French cinema to deliver the best 'dysfunctional family around the dinner table' drama, though while The Rest Of The World (Le reste du monde) has its entertaining moments as it delves into family, loss and identity it tends to meander at times when a little more focus is called for.
Marie-Eve Nadeau is poised and refined as Eve, though her character is given little to do.
Directed for television by actor/director Damien Odoul, there are some delicious moments – notably from Mathieu Amalric (who directed Odoul in 2010's On Tour, and is clearly returning the favour) as a man obsessed with his food intake, and Emmanuelle Béart as a shaggy-haired alcoholic – but the drama is never fully developed and certain aspects are left hanging.
The film opens with a striking shot of Eve (Marie-Eve Nadeau) standing at a window, with coffee in hand as the light streams through. Eve, who teaches at a school for the deaf, is love with boyfriend Helios (director Odoul), but he commits suicide soon after she finds out she is pregnant.
Meanwhile in a linked storyline Eve and his sister's Judith (Judith Morisseau) and Aurélie (Aurélie Mestres), along with Judith's fussy husband Paul (Amalric) head off for a dinner with father Jean (Jean-Louis Coulloc'h) and his alcoholic new wife Katia (Béart), who none of them like. This leads to tense dinnertime chat, especially as the booze flows, which comes to a head when Katia drunkenly implies that Jean is not actually Judith's father.
Judith recruits her sisters to face the man she thinks may be her real father; Eve wonders if she wants to keep the child and Katia keeps in drinking. Little else happens though the notion of family and identity remain at the core of the gentle story arc.
Marie-Eve Nadeau is poised and refined as Eve, though her character is given little to do, and despite being at the heart of the film is very much an observer. The fact that she works with the deaf takes her arc nowhere and there is a sense that her story is a little flimsy despite its possibilities.
Aurélie Mestres as the younger punky sister makes the most of her minimal opportunities, though most fun is had by Mathieu Amalric as Paul (who happily rambles on about his operations and ailments) and Emmanuelle Béart as the drunken Katia (but then playing a drunk is always a fun role for any actor).
The Rest Of The World, which had its world premiere in the Spectrum section of the Rotterdam Film Festival, is in the end something of a slight film despite its dramatic opportunities.
Production companies: D.O. Films, ARTE, CNC
International sales: Le Pacte, www.le-pacte.com
Producer: Damien Odoul
Screenplay: Sophie Le Breton
Cinematography: Sylvain Rodriguez
Editor: Jean-Christophe Hym
Production designer: Fred Dabo
Main cast: Marie-Eve Nadeau, Judith Morisseau, Mathieu Amalric, Emmanuelle Béart, Aurélie Mestres, Jean-Louis Coulloc'h, Charles Berling