Dir: Patrice Leconte. France-Canada-Belgium. 2012. 79mins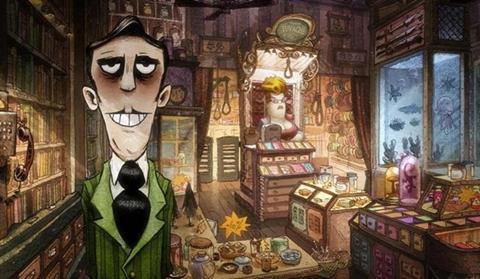 Prolific director Patrice Leconte takes his first stab at feature animation with The Suicide Shop (Le Magasin des Suicides), a mordantly macabre musical about what happens when an upbeat youngster is born into a family whose stock in trade is selling the accoutrements for doing oneself in. It is a darkly amusing adaptation of Jean Teulé's 2007 novel - which would have been far less palatable as live action – and works very nicely as hand-designed 3-D animation. This playful momento mori should find takers wherever distributors are willing to take a chance on a politically incorrect quality animation.
Anyone who dug The Corpse Bride should enjoy this.
Slated for a September 26 release in France, the sardonic but jovial confection had its world premiere in Cannes at a lone screening for several hundred French schoolkids, who seemed appreciative. While certainly suitable for older children, the film's sensibility is also geared to adults. It's an artfully extended one-joke movie - in which the joke, it must be said, is a pretty good one.
The title shop, founded in 1854 and in the Tuvache family ever since, is a sort of reverse pharmacy that cures whatever's ailing you - permanently. You can literally name your poison: They carry over 200 of them, and Madame Tuvache thinks of the deadly elixirs as perfumes with a killer fragrance.
The Tuvaches pride themselves on selling rope and nooses, poisonous insects, Japanese ritual swords, razor blades both rusty and pristine, you name it. When a homeless man wanders in, they take his budget into consideration by offering a plastic bag and the tape to seal it over his head.
Business is good in the dreary metropolis where dour expressions and suicidal thoughts are the norm.
But when Madame Tuvache gives birth to congenitally happy Alan, the family is thrown into upheaval and near-disgrace.
Monsieur Tuvache - a consummate aesthete-cum-shopkeeper whose first name, improbably, is "Mishima" - and his wife already have a mopey teen son and daughter. Daughter Marilyn whines that it's so totally unfair that she's not allowed to kill herself like the other kids. Alan's joie de vivre jeopardises everything the Tuvaches have built up.
The film's mater-of-fact tone is close to that of The Addams Family, where Morticia would give her kid a bigger and sharper knife to run around with. Here dad gives Alan his first cigarette, encourages him to inhale and promises to get him a whole carton to practice with. Anyone who dug The Corpse Bride should enjoy this.
Before he became the director of a series of hit comedies that are French cultural touchstones, followed by a number of mostly melancholy international art house successes including Monsieur Hire, The Hairdresser's Husband, and Ridicule, Leconte, a lifelong comics fan, worked for five years as an illustrator for pioneering French comics. The main cast and supporting characters are drawn with expressive panache. The depth added by the 3-D version, while not really necessary, is pleasantly unobtrusive.
Etienne Perruchon's catchy melodies are a peppy fit with Leconte's deadpan lyrics.
Production companies: Diabolo Films, La Petite Reine, ARP, France 3 Cinema, Caramel Films, Entre Chien Et Loup, RTBF
International sales: Wild Bunch, www.wildbunch.biz
Producers: Gilles Podesta, Thomas Langmann, Michele & Laurent Petin, Andre Rouleau, Sebastian Delloye
Screenplay: Patrice Leconte, adapted from the novel by Jean Teulé
Art Directors and Graphic Designers: Régis Vidal, Florian Thouret
Editor: Rodolphe Ploquin
Music: Etienne Perruchon
Main cast: (voices) Bernard Alane, Isabelle Spade, Kacey Mottet Klein, Isabelle Giami, Laurent Gendron