Dir/scr: Im Sang-soo. South Korea. 2012. 114mins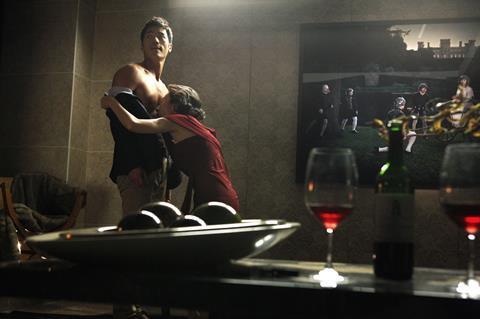 As deep and profound as a comic book printed on glossy paper, Im Sang-soo's latest portrait of lust and corruption, power plays and violence at the highest echelons of Korea's society has all the style and luster of his previous works, with brilliantly lighted spectacular sets, glorious photography, fast paced action and plenty of Korean star power. But there is no real story to tell here, just a bunch of old fashioned, tired clichés spiced with references to various sensational front-page scandals, all of it reprocessed to look like an original script.
There is no doubt that Im Sang-soo is a brilliant craftsman who knows his work inside out and also that he has little respect or admiration for the leaders of his country.
Two years ago, Im Sang-soo made quite a splash in Cannes with his new, flashy, version of the Korean classic The Housemaid, a sexy and perverse allegory of decadence and deceit, taking place in a huge mansion which was said at the time to be the biggest set ever built in that country.
The Taste Of Money (Do-nui Mat), which quotes not only The Housemaid (2010) but also Kim Ki-young's original 1960 version, most probably has even bigger and more sumptuous sets. The story, however, takes the allegory all the way into the realm of the absurd, a farfetched parody woven around the wealthiest family in Korea where every one of its members plotting against the others and every one of its servants lurking in the shadows to get a piece of the action.
The worst of the tribe is Mme Baek (Yoon Yeo-Jeong of The Housemaid fame, in a largely over-the-top performance). She is the desiccated elderly daughter of a decrepit old lecher who puts on occasional appearances in a wheelchair with a sturdy nurse next to him to feed him oxygen every time he gets too excited.
The entire film evolves around Mme Baek's aging husband, Yoon (Baek Yun-shik), who falls for the Filipino maid Eva (Maui Taylor) and intends to start a new life with her. But his demonic wife immediately sets out to prevent his departure.
Presentable young hulk Young-jak (Kim Kang-woo) services Madame in times of distress and makes eyes at Madame's divorced daughter and heir apparent, Nami (Kim Hyo-jin). Madame has also a son, Chul (On Ju-wan) who seems to be in constant trouble with the law and who plans to get away with a chunk of the family fortune to start a stash of his own. How all this is supposed to happen, is largely unclear.
In between the gaps of this skeletal plot, nude girls galore run around as they devotedly tend to their customers, every piece of scenery around them - interiors or exterior - seems ripped out of designers' magazines, and every once in a while there is another blurt of intrigue that makes no sense, whether it is about opening accounts in once place, closing them in another; buying politicians at the drop of the hat or visiting warehouses filled with mountains of fresh banknotes.
By the end of the film there is no doubt that Im Sang-soo is a brilliant craftsman who knows his work inside out and also that he has little respect or admiration for the leaders of his country. But there is precious little here that hasn't been said before. Size, noise and special effects are not enough, though it is true that ultimately, this kind of portrait could describe not only South Korea, but most other countries around the world.
Production company: Filmpasmal
International sales: Daisy & Cinergy Entertainment, ericanam628@gmail.com
Producer: Seo Jung-hun
Executive Producers: Soon Kwang-ik, Kim Won-kuk
Cinematography: Kim Woo-Hyung
Editor: Lee Eun-soo
Production designer: Kin Young-hee, Kim June
Music: Kim Hong-jip
Main cast: Kim Kang-woo, Baek Yun-shik, Yoon Yeo-Jeong, Kim Hyo-jin, Maui Taylor, On Ju-wan