Dir: Michele Placido. Italy. 2010. 125mins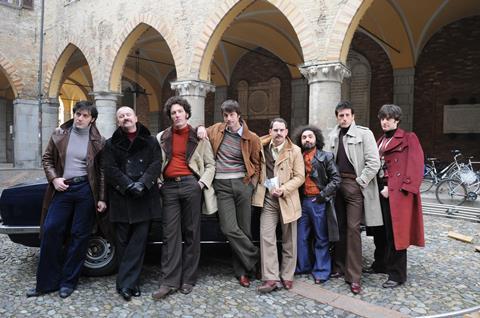 When France glorified its star bank robber of the 1970s in Mesrine: Public Enemy No.1, the result was a massive European hit. Italy is now going the same way, having found in Renato Vallanzasca their own version of a bold, ruthless, media-celebrated criminal and using the same "kiss kiss, bang bang" technique of the Gallic screen adaptation and the same television approach which has produced such satisfactory results in the past.
Action-packed and relentlessly galloping ahead.
A high-profile profile production, featuring such top stars as Kim Rossi Stuart and Filippo Timi from Italy, Germany's Moritz Bleibtreu and Span's Paz Vega, action-packed and relentlessly galloping ahead, often too fast for its own good, this one will take director Michele Placido once again, whatever the critics might think of this, to the top of the box office at home, with a practically in-built option for a more elaborate TV series already in sight.
Based on the life of a Milanese criminal, Renato Vallanzasca, famous for his daring exploits and bravado personality which got him plenty of media coverage - and on two books relating his exploits - the picture does not commit itself to tell the truth, the whole truth but nothing but the truth, since, as they cleverly point out, there is no such thing in existence.
Neither a rebel against society nor a Robin Hood distributing the loot to the needy, Vallanzasca insists he is a "natural-born thief" but a gentlemanly one with principles of his own, who will take bullshit from no one. He's a man who'd rather use a gun to scare rather than shoot and whose irreverent goading banter in court and out of it (like boasting he will escape jail even before he was thrown into it) drove both police and judges mad, but naturally delighted the media.
As played by Kim Rossi Stuart, with self-assured spunk and fearless determination, he is bound to come out, regardless of his actions, a full blown popular hero. Condemned to several life sentences mostly for crimes committed by others instead of his own (at least this is his version) he was married in jail to one of his numerous female admirers and has officially buried the hatchet, putting an end to his ongoing war with the law.
Watching Placido's version of Vallanzasca's life, however, is a bit like rushing through a mountain of newspapers clips at top speed, accompanied by the sound and fury of machine guns or of an equally loud and bombastic music track which is supposed to keep the tension high at all times.
Apparently having settled on a "highlights from the life of Vallanzasca" formula and giving up any attempt to establish a dramatic structure, the script is populated by insufficiently defined cardboard characters who move around pulling triggers, ordering coffee or delivering clichés, before killing or being killed or simply disappearing from the screen, possibly all the way to the cutting room floor.
The large number of authors brought in to deal with the script may have something to do with all this. Snippets of plots are left hanging in the air, threats of vengeance remain unfulfilled, lifelong enemies become suddenly allies, and the explanation can't just be "that's how it was".
Restless cutting may well suggest something far more extensive was planned somewhere along the way, but never materialised on screen. Rossi Stuart (also one of the script writers, never really out of the frame, comes out best from all this mess, but the rest, including respected professionals such as Bleibtreu and Timi, contribute their presence rather than their talent.
Production companies: Cosmo Productions, Twenty First Century Fox Italy, Babe Films
International sales: Fortissimo Films, www.fortissimo.nl
Producer: Elide Melli
Screenplay: Kim Rossi Stuart, Michele Placido, Antonio Leotti, Tom Trupia, Andrea Leanzo, Antonella D'Agostino, freely adapted from Il Fiore del Male by Carlo Bonini and Renato Vallanzasca and "Lettera a Renato" di Renato Vallanzasca and Antonella D'Agostino.
Cinematography: Arnaldo Catinari
Production designer: Tonino Zera
Editor: Consuelo Cattuci
Music: Negramaro
Main cast: Kim Rossi Stuart, Filippo Timi, Mortiz Bleibtreu, Paz Vega, Valeria Solarino, Francesco Scianna, Gaetano Bruno, Nicola Acunzo, Stafano Chiodaroli, Lino Guanciale, Paolo Mazzarelli, Federica Vincenti