Dir: Sara Sugerman. UK. 2012. 85mins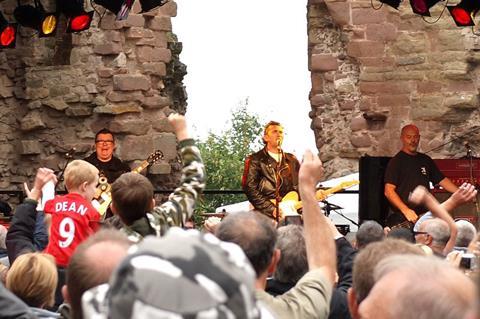 Sara Sugarman's engaging music business comedy Vinyl is a refreshingly freewheeling return to form for the British director, and with its mixture of recognisable performers – for UK audiences certainly – clever satire and smart musical moments it could well appeal to audiences.
Sugarman clearly feels at home with the music material.
With its well aimed barbs at the music businesses obsession with generic youthful bands – plus the fact that it is loosely based on a real life music-biz hoax – give the film an edge, and while it never quite reaches the likes of Still Crazy or This Is Spinal Tap for sheer verve of showing old rockers together it is a savvy enough satire.The film has made a handful of appearances on the festival circuit.
Sugarman – who made Mad Cows, Very Annie Mary and Confessions Of A Teenage Drama Queen – returns to her Welsh roots for Vinyl, loosely inspired by the story of 1980s Welsh rockers The Alarm who released a track under a different band name and got a young local band to lip-sync it as a way of proving the music business was unrepentantly youth orientated.
In Vinyl old 1980s punk rockers Johnny Jones and the Weapons of Happiness are now retired – they once opened or the Buzzcocks – though stoner lead singer Johnny Jones (Phil Daniels) still dreams of making music. When he and girlfriend Jules (Julia Ford) attend a funeral, he is reunited with his old band (Keith Allen, Chris Turner and Perry Benson), and after a boozy session they pick up their instruments and jam, with now wealthy Robbie (Benson) recording the track on his laptop.
In the cold light of day the band realise the music wasn't too shabby, and Johnny heads off to see his old record label with his eyes on the comeback trail, only to be told that tweens to 20s are the only music-buying demographic that counts and that they are way too old.
Johnny changes the name on his promo CD to The Single Shots tells a friendly DJ that the track was made by a hot young underground Welsh band, and suddenly things start happening. Johnny and the boys set about a fake band – fronted by cool busker Drainpipe (Jamie Blackley) – who try train to act and look like musicians, and set about fooling the music business.
Sugarman – who was previously in bands, was an actress in Sid & Nancy (where Robby Benson also had a role) – clearly feels at home with the music material, and while the story may well be pretty straightforward, she – and co-writer Jim Cooper – layer in the satire and have a real affection for the rockers. Mike Peters, who was lead singer of The Alarm and very much behind the original story, crops up in a cameo.
Phil Daniels – who, of course, has music experience in films such as Quadrophenia and Breaking Glass – is an exuberant lead, and nicely complement by the likes of Keith Allen and Perry Benson. The expected bickering between old band members and pithy comments about the 'youth of today' are nicely layered in, and while there is little room for back story, the film moves at a smart pace and features some impressively staged rock moments.
Production companies: H20 Motion Pictures, Vanguard Film, Preston Clay Reed Films, Mrs. Jones, Diverse Arts, Cwmni Da
International sales: H2O Motion Pictures, www.h2omotionpictures.com
Producers: Preston Clay Reed, John H. Williams, Sara Sugarman Executive producers: Andras Hamori, Mark Horowitz, Gary Lippman, Letitia Lawson, Mike Walsh, Sean Walsh
Co-producers: Steven Berger, In a Place Post, Milton Adamou Screenplay: Sara Sugarman, Jim Cooper, from a story by Cooper.
Cinematography: Benji Bakshi
Editor: Hazel Baillie
Production designer: Anna Lavelle
Music: Mike Peters
Main cast: Phil Daniels, Perry Benson, Keith Allen, Julia Ford, Jamie Blackley, Chris Turner, Alexa Davies, Daniel Washington, Will Peters, James Cartwright, Phyllis McMahon, Simon Humphrey, Tracy Whitwell