Dirs: Daniel Lucchesi, Alex Ramseyer-Bache. UK. 2011. 82mins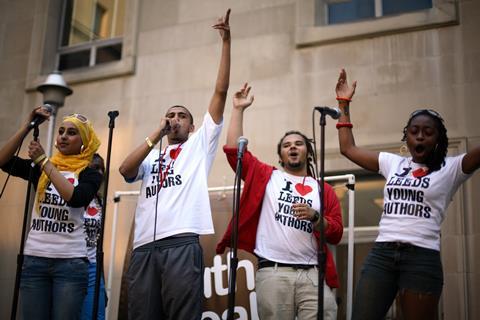 An up-lifting, moving, amusing and thoroughly enjoyable documentary, British film We Are Poets maybe straightforward in structure, but its story is elegantly put together as it gradually reveals its characters and heads towards an oddly exhilarating climax.
We Are Poets is a great film.
A beautifully shot slow-motion opening montage, essentially there to celebrate the Northern city of Leeds, is a moment of elegant lyricism and acts as a spark to display how important their hometown is to a group of young performance poets who are selected to represent the UK in the annual international poetry slam competition Brave New Voices in Washington DC.
What follows is energetic and charming as the six young people who are chosen to take part are revealed, offering open and honest assessments of who they are, why they are drawn to poetry and what they hope to achieve. They are engaging, unpretentious and brimming with infectious enthusiasm.
Though lean in terms of running time, Sheffield filmmakers Daniel Lucchesi and Alex Ramseyer-Bache do a great job in terms of making the film engaging, amusing, accessible and exciting as the youngsters reach US and find themselves in a vibrant celebration of literary arts that culminates in an inspirational poetry slam.
In amidst the passion and skill of young poets from around the US, the Leeds Young Authors team are initially nervous and enthralled by their surroundings, but rise to the challenge to more than hold their own.
Especially powerful is a moment towards the end when two of the young poets perform a poem called America that they had been discouraged from reciting by a coach back in the UK because of political sensitivity, but find that the audience is receptive to its challenging sentiments.
We Are Poets is a great film – and one that should be mandatory viewing for all English classes at British schools…and possibly others around the world.
Production company: Leeds Metropolitan University
International sales: Dogwoof, http://dogwoofsales.com
Producers: Daniel Lucchesi, Alex Ramseyer-Bache, Martin John Harris
Executive producers: Khadijah Ibrahim, Jenny Granville, Peter McGurn, Nick Wright
Cinematography: Daniel Lucchesi, Alex Ramseyer-Bache
Music: Damuel Sim, The Pattern Theory, Tom Stewart, Bob Bradley
Website: http://wearepoets.co.uk
With: Saju Ahmed, Maryam Alam, Jospeh Buckley, Kadish Morris, Rheima 'Mimz' Ibrahiim, Azalia Anisoko, Khadijah Ibrahim