Dir/scr: John McKenzie. UK. 2013. 93mins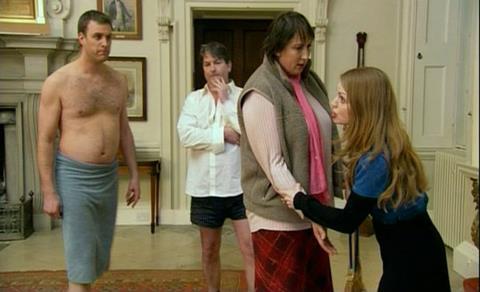 An lazy and old-fashioned simplistic British farce, 12 In A Box gets a – very brief – belated theatrical release in the UK, mainly in the back of the popularity of local comedienne Miranda Hart…despite the fact that she features ways down cast list and gets very little screen time.
The plot – such as it is – is very much Agatha Christie inspired.
Made in 2007, the film has the modest comedy moves to appeal to a home entertainment audience with very low expectations, but with its poor script, hand-fisted direction and so-so performances it is a film that will feature on most 'worst of' lists for year and unlikely to play anywhere else internationally.
The plot – such as it is – is very much Agatha Christie inspired. It places 12 people who were once at the same school in an opulent country house together, where they are played a videotaped message from their dying host who says each will received £1million if they all stay in the house (well, not leave the grounds at least) for the next 96 hours.
They are a mixed bag of clichéd characters – Katy Wix as Andrea is lusty; Belle Mary Hithersay is a bible-obsessed mouse and Glynn Steele's Adam is a serial stutterer etc – while Miranda Hart (who is something of a big star on UK television) stumbles into the story as the would-be wife of 'Little Barry (Kenneth Collard), who is upset that he won't leave the house to attend their wedding.
The 'comedy' complications include heart attacks, infidelity, marital problems, burglars and the police, and the film plods through its modest story (with the chaps spending most of their time in their boxer shorts for most of the time) towards an entirely predictable and uninvolving climax.
Production company/contact: Masses Entertainment, www.massesentertainment.com
Producers: Brian Mitchell, Bruce Windwood
Cinematography: Nicholas Wise
Editor: Lewis Albrow
Music: Mark Revell
Main cast: Katy Wix, Gareth Clarke, Brian Mitchell, Kenneth Collard, Belle Mary Hithersay, Lucy Chalkley, Miranda Hart, Glynne Steel