Dir: Takashi Miike. Japan. 2010. 125mins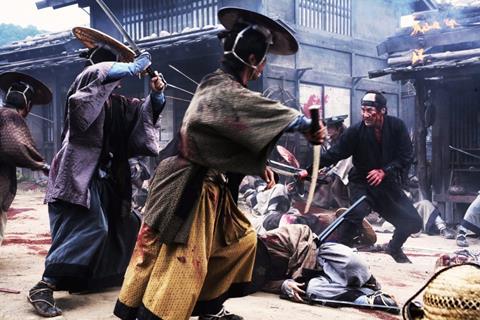 Takashi Miike must be at least two people. The Japanese maverick averages between two and three films a year – and yet this last-man-standing samurai tale, his second release so far in 2010, is a confident, stylish swordplay feature played in a nicely jaded, 'twilight of the gentleman warrior' key, that bears little trace of haste. It takes a while to build through the occasionally dull and hard-to-follow historical exposition of the over-talky opening scenes. But once the Seven-Samurai-style band of brothers is assembled, 13 Assassins is pure pleasure: and it culminates in a magnificent 45-minute showdown that has to be the best final battle sequence in cinema since, oh, Kill Bill at least.
The challenge for overseas distributors will be to get its potential fanboy audience over the slow-build hump of the film's first hour.
Toho releases the film in Japan on September 25 in a version that is twenty minutes longer than the international cut which screened in competition at Venice. The film has certain home market advantages: a name cast that ranges from A-list veterans like Koji Yakusho to pop star Goro Inagaki; the fact that it is a remake of a same-name film by Eichi Kudo from 1963 which older viewers and younger cineastes will be familiar with; and its grounding in Japanese history, ritual and religion.
The challenge for overseas distributors (who so far cover only Benelux, Portugal and the former Yugoslavia) will be to get its potential fanboy audience over the slow-build hump of the film's first hour; further clever cutting could be one option.
Shot in melancholy dark tones, the film has a sure sense of visual style. It's not a random choice: stopping down the colour helps to convey the sense of a historical day that is coming to an end. The day is that of the samurai, which wound down when the shogunate feudal system was abolished in 1867. Based on a semi-legendary event, the action of 13 Assassins takes place 23 years earlier, but already the signs of decline can be read. They're glaringly present in the film's memorable antagonist, Lord Naritsugu (Inagaki), an effete sadist who rapes, maims and kills like a bored teenager, just because it's something to do.
He's the Shogun's brother, and therefore protected; but because his actions reflect badly on the state and raise the spectre of war at a time of peace, high-ranking official Lord Doi (Hira) is authorised to summon master samurai Shinzaemon Shimada (Yakusho, emanating authority) and give him the mission of raising a band of warriors to ambush and assassinate the bad apple. The way of the samurai pits Shinzaemon against his old dojo sparring partner Hanbei (Ichimura), who is now Lord Naritsugu's head samurai. Though Hanbei clearly deplores his master's ways, he is stubbornly faithful to the samurai code of honour that requires him to serve his lord unquestioningly (something which adds a nicely nuanced, affecting twist to the stand-off between two old-fashioned men of honour who by rights should be on the same side).
We're in familiar Seven Samurai territory as Shinzaemon assembles his troops. He's forced to scrape the barrel a little, as too much peace does not make for battle-ready samurai; he even goes to a brothel to smoke out his dissolute nephew Shinrokuro (upcoming star Yamada) and talk him into joining the mission. Eventually twelve good men (one of whom is just a boy) are ready, and depart to confront Naritsugu and his personal army. Along the way they pick up a thirteenth fighter – forest hunter Koyata (Iseya), who is accepted even though he's not a samurai. Iseya (a former Loreal Japan model who shot to film fame with Casshern) has great fun with the film's most enjoyable comic role as a child of nature who treats the final battle, and the whole pompous samurai code, as a huge lark.
One likeable element of the tasty final showdown, all set in a mountain village that has been turned into a booby-trapped death chamber by the thirteen assassins, is the way it manages to balance spectacle with authenticity. Horses' hooves squelch in the mud (one of several visceral sound effects), and the swordplay is gritty and messy, with blows being mis-hit and mis-timed as would happen in any real battle. Though blood flows in streams Miike keeps his penchant for sadistic ultra-violence in check, though there are severed heads and hari-kiris aplenty, and one pre-battle scene features a grotesque armless and legless victim of Lord Naritsugu.
Production companies: Sedic International, Sedic Deux, Rakueisha
International sales: (for Asia) Toho Co Ltd, www.toho.co.jp; (for rest of world) Hanway Films, www.hanwayfilms.com
Producers: Michihiko Umezawa, Minami Ichikawa, Toichiro Shiraishi, Takahiro Ohno, Hirotsugo Yoshida, Shigeji Maeda
Executive producers: Toshiaki Nakazawa, Jeremy Thomas, Takashi Hirajo
Screenplay: Daisuke Tengan, based on original story by Shoichirou Ikemiya
Cinematography: Nobuyasu Kita
Production designer: Yuji Hayashida
Editor: Kenji Yamashita
Music: Koji Endo
Main cast: Koji Yakusho, Takayuki Yamada, Yusuke Iseya, Goro Inagaki, Masachika Ichimura, Mikijiro Hira