Dir: Oliver Hirschbiegel. Germany. 2015. 110mins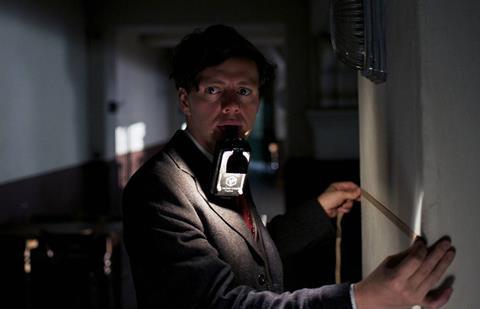 13 Minutes, Oliver Hirschbiegel's return to German-language film-making and the Second World War, is a solidly-crafted story of a lone German hero who tried to kill Adolf Hitler in 1939 – a "what-if?" prequel to the final insanity of Downfall.
13 Minutes seems particularly suited to the German market, and the audiences who warmed to 2009's John Rabe.
Georg Elser (played with great sympathy by Christian Friedel) placed a bomb behind Hitler's lectern in a Munich beer cellar in November 1939, but the explosion missed the Fuhrer by a fateful 13 minutes.
Hirschbiegel, moving on from two poorly-received English language films (The Invasion and the royal biopic Diana), delivers a respectful ode to this solitary hero in a time of almost-complete darkness for Germany. Charting the rise of fascism through one man's story of resistance, 13 Minutes is a conventionally-structured, handsome-looking piece but Fred and Leonie-Claire Breinersdorfer's screenplay is short on tension and lacks the psychological impact of a film like The White Ribbon or even last year's Ida.
13 Minutes seems particularly suited to the German market, and the audiences who warmed to 2009's John Rabe (also sold by Beta Cinema). With Sony Pictures Classics taking North American rights, 13 Minutes seems likely to feature in awards play and should be a prestige, if undynamic, title for the label.
While many are familiar with the Von Stauffenberg plot to assassinate Hitler, and may even have seen Tom Cruise in Valkyrie, the story of Georg Elser is not so widely known. Hirschbiegel efficiently sets up a bravura first act where Elser, under enormous stress, places the bomb and attempts his escape. Captured at the Swiss border and tortured, Elser refuses to say whether he acted alone. While the Gestapo investigates his potential accomplices, the screenplay is more concerned with how one man mounted his own attack in the middle of such a rising, overwhelming tide of fascism.
Hirschbiegel takes it for granted that the tragedy of those missing 13 minutes will play as background music as he brings the viewer slowly through Elser's life story, framing it as a flashback biography from the vantage point of his incarceration. Nazis wheel in and out with torture devices, jerking the film into flashbacks from Elser's past, particularly to his rural village in Baden-Wurttemburg.
We see Elser as a lively musician – an accomplished accordion player – and a confident ladies man. He's the son of an alcoholic and gets part-time work as a carpenter. He falls in love with the married Elsa (Schuttler) and carries on an affair under her brutal, drunken husband's Erich (Klink) nose – they even have a child together. As all this is going on, the National Front is coming to power in the rural hinterland. Old village rivalries continue to play out, only now the protagonists are wearing different coloured shirts. The stakes are high too – a black shirt will lead to a prison camp and years of forced labour. But being a Nazi brings status and power. Promises are made about economic miracles, but Elser can see that the population is being manipulated into its own downfall.
Meanwhile, in the present, Elser refuses to co-operate with the head of the criminal police Arthur Nebe and the Gestapo chief Heinrich Mueller (played by Burghart Klaussner and Johann von Bulow), with painful consequences. Incarcerated at Dachau, where he was given small special privileges, Elser was not executed until 1945. (Frustratingly, the film does not reveal why this was the case).
Hirschbiegel moves between the two time frames throughout 13 Minutes, building Elser's motivation for the bombing, and his love for Elsa. (There's an unfortunate footnote in the credits which claims that Elsa never got over her love for Elser, but managed to marry another two times, which might easily be snipped). Production design is handsome in both, with flashback sequences of rural beauty shot in warm, glowing tones. The interrogation footage is starkly lit, as might be expected, while the recreation of Hitler's speech at the Munich beer cellar is the film's design highlight..
Production company: Lucky Bird Pictures
International sales: Beta Cinema, beta@betacinema.com
Producers: Boris Ausserer, Oliver Schundler, Fred Breinersdorfer
Screenplay: Fred Breinersdorfer, Leonie-Claire Breinersdorfer
Cinematography: Judith Kaufmann
Editor: Alexander Dittner
Music: David Holmes
Production designer: Benedikt Herforth, Thomas Stammer
Main cast: Christian Friedel, Katharina Schuttler, Burghart Klaussner, Johann von Bulow, Felix Eitner, David Zimmerschied, Rudiger Klink, Simon Licht, Cornelia Kondgren