Dir: Fernando Meirelles. UK-Austria-France-Brazil. 2011. 115mins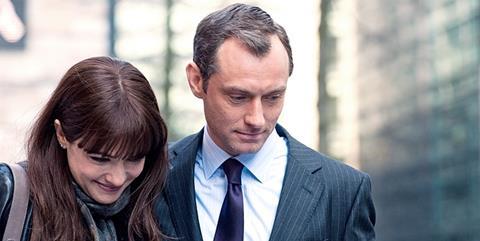 Fernando Meirelles swirling and globetrotting film is a masterpiece of structure and is punctuated by a series of impressive performances as it sweeps through Vienna, Paris, London, Bratislava, Rio de Janeiro and Phoenix as it charts a course through a series of troubled relationships. There are few formal links between the varied storylines – though they do collide and interweave – rather the film goes around the world (the 360 of the title) with its series of short stories.
The film elegantly and engagingly works its way full circle, ending on notes of hope and even happiness rather than depression and sadness.
The film is inspired by Arthur Schnitzler's classic La Ronde, but is elegantly updated by screenwriter Peter Morgan and director Fernando Meirelles for a modern-day medley of stories that take in love, passion, chance, temptation and friendship all set against a stunning backdrop of vivid locations.
The film, which had its world premiere at the Toronto International Film Festival is a masterfully constructed film, though will be a challenge to market. Certainly the cast list does feature Anthony Hopkins, Jude Law and Rachel Weisz, but they have a modest amount of screen time – in a similar way that all the performers are used – rather than standout roles. The multiple languages in play – German, Slovakian, Russian, Portuguese etc – mean that the film is partially subtitled, pushing 360 resolutely into the art house release bracket rather than suggesting an easy mainstream crossover title.
As is the nature of such projects, there are moments when things lag and certain storylines simply offer more interest, charm or drama than others, but director Meirelles – wonderfully aided by crisp and beautiful cinematography by Adriano Goldman and astute editing by Daniel Rezende – manages to keep the film's momentum at the right level.
The film's voice-over – at the beginning and end – advises that "if there's a fork in the road…take it". And that is the core of the film – life takes you on a journey and deciding which direction to take is always the hardest decision to take. These journeys result in an intelligent and engaging filmic drama that is never less than absorbing.
The characters and stories are rich and varied. They include a Slovakian girl reluctantly embracing the idea working as an escort in Vienna as a way to make easy money, and whose first 'date' is to be with a lonely English businessman (Jude Law) who ends up being blackmailed into a business deal by a colleague who finds out about the planned assignation.
Back in London his equally lonely wife (Rachel Weisz) breaks off an affair she is having with a Brazilian photographer, and when he returns to his apartment he finds his girlfriend (a charming and vibrant Maria Flor) has decided to fly back home to Rio after finding out about the affair.
On her flight back home she meets a recovering alcoholic (Anthony Hopkins) who is travelling to the US to find out if a recovered body is that of his missing daughter. When their flight is held overnight in snowbound Denver she drunkenly propositions a freshly paroled sex offender (Ben Foster) who is working hard to stick to the terms of his parole.
A Russian woman living in Paris in an unhappy marriage to a crime boss's underling falls for her dentist boss, while her equally unhappy husband (who has a phone with possibly the best ring tone – when his mobster boss calls – in recent movie memory) ends up questioning his life when he bumps into the sister of the Slovakian girl who has been paid for sex by his boss. The film elegantly and engagingly works its way full circle, ending on notes of hope and even happiness rather than depression and sadness.
The message that Morgan and Meirelles are sending out is that sometimes you need to grasp the opportunities that fork in the road might offer…it is sometimes easy to stick on the road in front of you but taking a risk and a change of direction can offer the possibility of happiness.
The beautiful backdrops – and good use of architecture and style – are all vital components to Meirelles storymaking, and the clever use of the moving camera and split screens that morph together enables him to delicately weave the story line together. Jude Law and Rachel Weisz are open and believable as the British couple unable (in perhaps a great cliché about the Brits) to express the affection for each other – whether it be verbally or in a tactile fashion, while Anthony Hopkins provides the strong centrepoint to the film, and his speech about himself and his life at an AA meeting is a beautifully written scene.
Production companies: Revolution Films, Dor Film, Fidelite Films, 02 Films
Producers: Andrew Eaton, David Linde, Emanuel Michael, Danny Krausz, Chris Hanley, Marc Missonier, Olivier Delbosc
Executive producers: Peter Morgan, Fernando Meirelles, Christine Langan, Klaus Lintschinger, Paul Brett, Tim Smith, David Faigenblum, Graham Bradstreet, Steve Gagnon, Jordan Gertner, Nikhil Sharma, Chris Contogouris
Screenplay: Peter Morgan
Cinematography: Adriano Goldman
Editor: Daniel Rezende
Production designe: John Paul Kelly
Main cast: Jude Law, Rachel Weisz, Anthony Hopkins, Ben Foster, Jamel Debbouze, Maria Flor, Jamel Debbouze, Moritz Bleibtreu, Juliano Cazarre, Katrina Vasilieva, Vladimir Vdovichenkov, Johannes Krisch, Dinara Drukarova, Gabriela Marcinkova