Dir/scr: Abel Ferrara. US. 2011. 85mins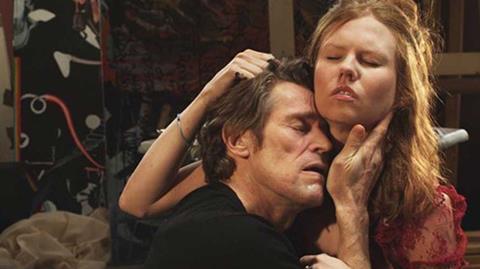 Bad-boy indie NY director Abel Ferrara shows us the end of the world as we know it - but by the end of this self-indulgent drama workshop exercise, many in the audience will be cheering on the apocalypse. Mostly set in the loft of an artsy New York couple - played by Willem Dafoe and Shanyn Leigh - who paint, make love and watch the Dalai Lama on DVD as the final hour approaches, the film has one or two moments of valedictory pathos, but these are oases in a dramatic swamp.
Ferrara's rambling script seems uninterested in turning this concept into a coherent drama.
At least it looks like it was relatively cheap to produce - and with Ferrara's name on the poster, enough arthouse punters may be persuaded to see the film for it to recoup that investment. But even compared to Ferrara's recent oeuvre - say Go Go Tales, or Mary - this is a micro-project, with micro distribution prospects.

The sitar music that plays over the opening credits turns out to be part of a video playing on an iPad - for this is the loft of a wired modern bohemian couple who are unironically into all things Eastern and New Age. Skye (Leigh) works on huge expressionistic abstract paintings which are laid out on the floor, while Cisco (Dafoe) tries to call a girl who turns out to be his daughter. Videos play in the background - featuring, among other pundits, US business-oriented Buddhist guru Geshe Michael Roach.
Skye and Cisco two have steamy sex, which seems to wear the older Cisco out - later, the most he can do is stroke his partner's rump as he tells her about a historic Green Bay Packers American football game from 1967. In the background, TV news reports inform us that the coming apocalypse, estimated to happen at 4.44am the following morning 'give or take a few seconds', has been caused by man's environmental selfishness. The ozone layer, it appears, has thinned to the point where the whole world is about to explode in a fireball.

Ferrara doesn't seem bothered by the fact that things might be getting a little hot on earth a few hours before meltdown, or that the internet may be getting a little overloaded. Everything's pretty normal: the traffic in the street below is a little heavier than normal, nobody much is rioting, and Cisco finds time to row with his former wife via Skype in between spouting improv-style lines of dialogue so we can feel his pain. He even says "We're all doomed" at one point. Skye too does a bit of Skyping, calling her mother - a deliciously caustic Anita Pallenberg - and telling her that she, er, loves her lots.

There's the kernel of an idea here: that were the end of the world to come at a fixed, pre-announced moment, it could well be a civilised, low-key affair rather than one of savage anarchy, a time to reach out to loved ones and be kind to strangers (like the Vietnamese pizza delivery boy who comes around at a certain point, and is allowed to Skype his folks back home). But Ferrara's rambling script seems uninterested in turning this concept into a coherent drama, preferring to throw in a rag-bag of lines and images to see what will stick. At least there's a fine, edgy jangly guitar soundtrack by Francis Kuipers to listen to while we wait to be released from earthly suffering.
Production companies: Fabula, Funny Balloons, Wild Bunch in association with Bullet Pictures
International sales: Wild Bunch, www.wildbunch.biz
Producers: Juan de Dios Larrain, Pablo Larrain, Peter Danner, Brahim Chiouha, Vincent Maraval
Cinematography: Ken Kelsch
Editor: Anthony Redman
Production designer: Frank DeCurtis
Music: Francis Kuipers
Main cast: Willem Dafoe, Shanyn Leigh