Dir/scr: Andrew Haigh. UK. 2015. 93mins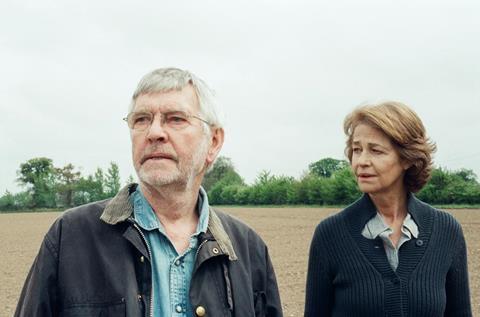 A gently devastating snapshot of a loving yet subtly fractured relationship in its twilight years, Andrew Haigh's wonderfully performed 45 Years is an elegant and restrained film that dwells on how an apparently happy union can be tormented by an echo from the past. Delicate, thoughtful and moving, the film cements Haigh's reputation as one of the leading lights of British cinema, with him drawing out award-deserving performances from his veteran leads Charlotte Rampling and Tom Courtenay.
Shot with an easy grace with production design perfectly reflecting the lives of this ordinary English couple, the film scores well in all production aspects.
The film, which screened in competition at the Berlin Film Festival and is set for release in the UK in the summer, is the follow-up to Haigh's critically acclaimed 2011 film Weekend, which – in complete contrast – dwelt on a barely-begun gay relationship that may not even go beyond the two days of its title.
His new film, adapted from David Constantine's short story In Another Country, instead depicts the relationship between a couple in the few days before they are staging their 45th wedding anniversary with a party. Where Weekend was about passion and the prospect of new love, 45 Years focuses on how a bond of decades can still be threatened and eroded by irrational worries, jealousies and emotional landmines, despite best intentions all round.
The notion of memories – and how photographs and imagery capture them – runs through 45 Years as this couple have been together for a long time struggle to cling onto what held them together. Beautifully observed, gently amusing and often performed with emphasis on the small things in life rather than any major dramatic incident, its focus on retrospective jealousy is an unusual and intriguing one…and offers an absorbing story that comes up with some gently profound truths.
Retired and living a warm and pleasant existence, Kate (Rampling) and Geoff (Courtenay) share an easy bond. He reads, listens to the radio and always promises to finally fix their broken toilet, while she is busy taking their dog for a walk, pottering into their local town and preparing for their 45th wedding anniversary party. They have the easy verbal shorthand of a couple who know each other very well, but a letter from Switzerland throws an emotional bomb into their relationship.
He receives a note that is a reminder of life before Kate. The body of Katya, his previous girlfriend, who died in a walking accident in Switzerland 50 years before has finally been found in a glacier. There is no hint at foul play, but the contained and restrained Kate finds it increasingly hard to deal with Geoff's emotional remembrances of Katya and his feelings for her (as she puts it, Geoff "gets over-passionate about things") despite that fact it all happened before she first met him.
Her initial response is measured (as she says, "I can hardly be cross with something that happened before we existed, can I?") but she starts to fixate on slight changes in Geoff's behaviour; heads into their loft to look at slides of Katya; worries about what he will say in his speech at their anniversary party and allows a vulnerability to take over her. The story is set over a week and culminates in their party, where, with their friends gathered around them, Kate still has the look of a woman haunted by doubt and alone in her worries.
The casting of two such strong and identifiable British actors gives the film is sense depth and strength. Both were icons of the British youth culture of the 1960s and when Geoff tells Kate "you were a bloody knockout" it is easy to recall Rampling as the beautiful young model and actress of the swinging sixties. She replies "you were so cool", which subliminally associates to Courtenay's rebellious charm in early films such as Billy Liar and The Loneliness Of The Long Distance Runner.
Shot with an easy grace with production design perfectly reflecting the lives of this ordinary English couple, the film scores well in all production aspects. A strand running through the story about them choosing the music for their party – they favour the likes of Young Girl; Happy Together and I Only Want To Be With You – subtly balances the romantic intentions of youth with the realities of a relationship that changes and is tested over the years.
Production companies: The Bureau, Film4, BFI, Creative England
International sales: The Match Factory, www.the-match-factory.com
Producer: Tristan Goligher
Executive producers: Christopher Collins, Lizzie Francke, Sam Lavender, Tessa Ross, Richard Holmes, Louisa Dent, Philip Knatchbull
Cinematography: Lol Crawley
Editor: Jonathan Alberts
Production designer: Sarah Finlay
Main cast: Charlotte Rampling, Tom Courtenay, Geraldine James. Dolly Wells, David Sibley, Sam Alexander