Screen International has teamed with BFI London Film Festival and British Council to present the UK Stars of Tomorrow – one of several industry events unveiled today.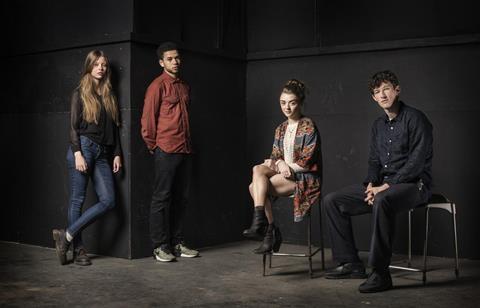 The first Screen International UK Stars of Tomorrow at LFF dinner is to be held on Oct 14 during the BFI London Film Festival (Oct 8-19).
The event will bring together a selection of this year's Stars of Tomorrow, including Aimee Ffion-Edwards and Phoebe Walller-Bridge, with casting directors, packaging agents, festival programmers, producers and financiers.
It will be preceded by a masterclass led by US casting agent Deborah Aquila, whose credits include The Shawshank Redemption and TV series Dexter and The Shield.
The event is supported by British Council and Casting Society of America (CSA), and will be held in association with We Are UK Film.
The dinner is by invitation only and is not an open event.
LFF industry events
The 58th edition of the festival has restructured its industry events programme into four strands: In Conversation; Talking Points; Meet the Commissioners; and New Talent.
The In Conversation strand will be headlined by DreamWorks Animation CEO Jeffrey Katzenberg as part of a celebration of the studio's 20th anniversary.
Katzenberg co-founded DreamWorks with Steven Spielberg and David Geffen in 1994, after spending more than a decade as chairman of Walt Disney Studios where he revived its fortunes with films such as The Little Mermaid, Aladdin and The Lion King.
Over the past two decades, DreamWorks Animation has produced blockbuster animation franchises including Shrek, Madagascar, Kung Fu Panda and How To Train Your Dragon.
The keynote is particularly timely following reports that Japanese telecoms and investment company SoftBank was eyeing a deal to buy DreamWorks Animation, valuing the studio at around $3.2bn.
Other conversations will include Stephen Frears, director of Philomena and The Queen; Bruna Papandrea, producer of Jean-Marc Vallee's Wild and executive producer of David Fincher's Gone Girl; and Peter Strickland, director of Berberian Sound Studio and LFF titles The Duke of Burgundy and Bjork Live: Biophilia, joined by his Biophilia co-director Nick Fenton.
TALKING POINTS
The festival will bring filmmakers and industry delegates together for debates and meetings about cultural, creative and commercial priorities for filmmakers today.
A roundtable session hosted by Ed Vaizey, Minister of State at the Department for Culture, Media and Sport and the Department for Business, Innovation and Skills, and Ben Roberts, Director of the BFI Film Fund, with producers, distributors, sales agents and exhibitors will discuss the challenges and opportunities of broadening diversity in the UK film industry.
The art of making a family film will be discussed by directors working successfully in the genre. Clio Barnard (The Selfish Giant), Debbie Isitt (the Nativity trilogy), Jon Wright (Robot Overlords) and Peter Lord (co-founder, Aardman Animations) will be joined by the BFI Film Fund's Ben Roberts and the BFI's young audiences specialist Justin Johnson.
Susanna White, director of films such as Nanny McPhee And The Big Bang and the upcoming Our Kind Of Traitor, as well as the TV series Parade's End, Generation Kill and Boardwalk Empire will talk with James Kent (Testament Of Youth) and other LFF filmmakers to consider what a director needs to know to maintain a successful career in working across features, high-end TV, music promos and commercials in The big picture on small screens, presented with Directors UK.
US casting directors Deborah Aquila (The Shawshank Redemption), Jeanne McCarthy (Foxcatcher) and Susan Shopmaker (Listen Up Philip) will join with their UK counterparts, including Gary Davy (Hunger) to talk about the role they play in discovering new international talent and the art of matching them with leading producers and directors in Working with a casting director, presented with the Casting Society of America (CSA).
Festival Director Clare Stewart, Carola Ash, the director of Europe at the Academy of Motion Pictures Arts and Sciences, leading awards consultant Liz Miller from Premier and further expert guests will discuss how to craft an awards season run, including the role festivals play in creating critical buzz, in Building a successful awards campaign.
The different ways to put together a UK-European co-production will be showcased in case studies of two collaborations. Producer Samm Haillay will talk to international finance consultant Angus Finney, at the Film London Production Finance Market about working with Sweden's Film I Vast, the Torino Film Lab, Film Agency Wales and Germany's The Match Factory to make Bypass, while Danish producer and director team Sisse Graum Jørgensen and Kristian Levring will reveal the journey from page to screen of The Salvation, the English-language Western, starring Mads Mikkelsen and Eva Green. Presented with weareukfilm.
Along with Screen's UK Stars of Tomorrow event, the festival will launch rising talent initiative NET.WORK@LFF. Emerging British talent will participate in masterclasses, private screenings, facilitated networking and one-to-ones over three days with festival guests Teddy Schwartzman (The Imitation Game), writer/director David Robert Mitchell (It Follows), UTA talent agent Bec Smith (Son of A Gun), director Susanne Bier (A Second Chance, Serena), financier Claudia Bluemhuber (Silver Reel Partners) and producer Sisse Graum Jørgensen (A Second Chance, The Salvation).
Industry events Power to the Pixel's Cross-Media Forum and the Production Finance Market (PFM) with Film London will return.
PttP's Cross-Media Forum will open this year with a keynote address from John S Johnson, the co-founder of Buzzfeed, which recently announced a dedicated feature film division, and executive director of entertainment research firm Harmony Institute
The Production Finance Market (PFM) returns for an eighth year. Over two days international producers and financiers meet to build relationships and source financing for specific projects. The Film London Market Place Live confronts an experienced industry panel with the challenge of getting a fictional feature project to market and the innovative Micro Market will provide 25 filmmaking teams with a day of dedicated meetings with financiers.
MEET THE COMMISSIONERS
UK film executives have chosen a film from this year's festival - one with which they may not have had any involvement - to talk about what they like and admire about the feature with the writer or director.
Ben Roberts and Lizzie Francke from the BFI, Joe Oppenheimer from BBC Films and Anna Higgs from Film4 will be talking to filmmakers including Celine Sciamma (Girlhood) and Ira Sachs (Love Is Strange).