Producer of Boys Don't Cry, Far From Heaven and Happiness was talking at the Glasgow Film Festival.
In a wide-ranging In Conversation session at the Glasgow Film Festival, producer Christine Vachon revealed a surprising truth about Killer Films, the New York City-based company she set up in 1995 alongside Pamela Koffler: whilst their films frequently deliver high profits to investors, Still Alice is the first and only of their productions to return a net profit to the company.
Vachon had previously confirmed the same in her 2006 book A Killer Life: How An Independent Film Producer Survives Deals And Disasters In Hollywood And Beyond.
Even in the tough world of independent film, that admission raised eyebrows given Killer's role in films including Boys Don't Cry (1999), which won Hilary Swank the best actress Oscar, Todd Solondz's Happiness (1998), Mark Romanek's One Hour Photo (2002) and Todd Haynes' Far From Heaven (2002).
Vachon has subsequently produced a string of critical hits, including Haynes' I'm Not There (2007) and Carol (2015). But it is the 2014 drama starring Julianne Moore, Alec Baldwin and Kristen Stewart that hit home financially for the company.
"Still Alice is the movie that is sending my daughter to college," the stalwart independent producer (pictured below) – who was speaking to Screen editor Matt Mueller – told an audience of young filmmakers at the Glasgow School of Art on Friday [Feb 24].
"It was a big success and an honest company. It's done very, very well for us."
The film's success was anything but a given, said Vachon, who came on board as an executive producer and was instrumental in attaching actress Moore, who went on to win the best actress Oscar for the film, directed by Richard Glatzer and Wash Westmoreland.
"For the movie to be financially successful, we knew it sort of had to do exactly what it did, which is to have a potentially Oscar-winning performance and then to win the Oscar. That's threading an insane needle but that was the chance that everybody was taking on the movie."
Amazon deal
Discussing her ability to sustain a career in the rough-and-tumble world of independent filmmaking, Vachon also revealed that, for the past year, Killer Films has been supported financially by Amazon Studios, a deal that came about through her longstanding relationship with Amazon's head of production Ted Hope.
That succeeded a long-term overhead deal with TV producer John Wells, which came to an end around 2010.
Amazon Studios funds Killer Films' current overhead through a first-look deal. "That has really allowed us a lot of creative freedom," said Vachon, noting that the deal applies to both films and television series.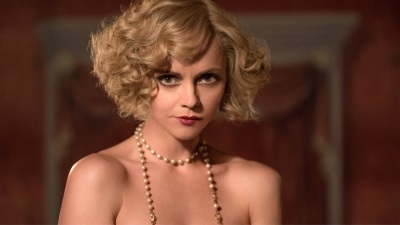 The first production to result from the partnership was current Amazon series Z: The Beginning Of Everything, about the turbulent love affair and marriage between F. Scott and Zelda Fitzgerald, starring Christina Ricci.
Whereas Vachon's first experience with a significant TV production – Haynes' Mildred Pierce, for HBO – was more in her comfort zone ("it was kind of just making a super-long movie"), Z was made in a more traditional TV way, with multiple directors across episodes.
Vachon called it "a real learning curve" for the company and said Killer Films are currently waiting to find out whether a second series will be commissioned. "We loved doing the first season but we learned a lot and feel like we could do an even better second season," she said.
Vachon, who has produced or executive-produced more than 75 feature film and another four TV projects, was sanguine about how the business has changed since she started in the 1980s.
"Theatrical filmmaking has become a very small part of the narrative storytelling that most of us consume. A lot of what we consider diverse storytelling – storytelling that feels unusual, on the edge, daring – is being made for the small screen now."
"Companies like Amazon and Netflix should be celebrated for what they're doing. And not just them but Hulu, FX – a lot of companies are taking chances on character-driven drama in a way that theatrical filmmaking simply can't for a variety of reasons."
LGBT champion
As a producer who has been at the forefront of championing gay, lesbian and transgender narratives and characters, Vachon noted that the LGBT audience no longer needed to rely on independent film to find themselves represented.
"There were a few years there in the US [in the 1990s] where if you made a movie for the right amount of money and aimed it only at the gay and lesbian audience, you could make your money back. We don't have that captive audience anymore – there are so many different platforms and so many different kinds of storytelling that people can find if that's what they're looking for."
Vachon did feel, however, that the rise of Donald Trump would invigorate a new generation of revolutionary and outspoken filmmakers, in the same way that Ronald Reagan did in the 1980s.
"When I first started making movies, I felt as disenfranchised by the Reagan presidency as I do by the Trump presidency. I felt like Reagan does not care in any way, shape or form about me or my constituency, and I think that forced a kind of filmmaking that had a true sense of urgency. I can't imagine that isn't happening now."
"Narrative storytelling is healthy and it's only going to get stronger."
Killer Films recently had four films at Sundance, including Miguel Arteta's Beatriz At Dinner and Sundance-winning documentary Dina, which sold to The Orchard. "Dina is the first time I've won at Sundance since my very first film, Poison," she smiled.
Upcoming Killer Films productions include Todd Haynes' Wonderstruck and Paul Schrader's First Reformed, which recently wrapped production in New York. Killer is also due to go into production in May on Still Alice co-director Wash Westmoreland's Colette, set to star Keira Knightley and co-produced with Number 9 Films.