Dir: Alan Rickman. UK. 2014. 116mins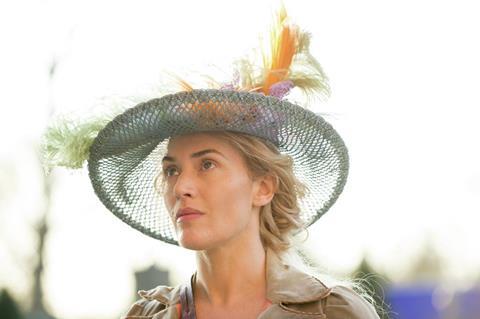 In the not overly long list of films about period garden design, the deliciously mannered A Little Chaos goes immediately to top of the list. The closing night film of the Toronto Film Festival, directed by Alan Rickman (who also plays a key role) the film is a gracefully made delight, replete with lush costumes, fruity performances, love amongst the flowerbeds and even a little mild peril. Yes it lacks real dramatic edge and may be seen as a typical British period costume film, but it is also a classily made pleasure that will delight its target audience.
Rickman directs with a sense of compassion and enthusiasm for the subject and really gets the best out of his excellent cast.
Rickman, who hasn't directed a film since 1997's The Winter Guest, has a fine old time as the French Sun King, Louis XIV and while he allows himself a few wonderful scenes his character is more the catalyst that the centre of the film, which focuses on Madame Sabine De Barra (Kate Winslet), her design for the Rockwork Garden at Versailles and her growing relationship with renowned architect, André Le Nôtre (Matthias Schoenaerts) who is responsible for the epic gardens at the palace.
It is a rather reassuringly well made film, and while a few of the subplots hamper the flow of the story, there is so much to relish in the impressive performances, striking costumes and design and the core message about finding beauty in chaos. The film also features an acting play off between Alan Rickman and Stanley Tucci, two actors whose line delivery can elevate any script from good to magnificent. In one scene – where his Rickman's Louis XIV is taking tea with Le Nôtre – Rickman just has to say the single work 'macaroon' to have the audience laugh with pleasure. He can do wry, laconic, humour like no one else.
The film is set in 1682, when Louis XIV is demanding the gardens of his new palace at Versailles be of "exquisite and matchless beauty", with the project so vast that André Le Nôtre seeks few garden architects to help with the work. He initially rejects Sabine De Barra's plans, seeing no trace of the order that drives his own work, but after a visit to her rambling garden he decides to offer her the opportunity to work on the Rockwork Garden, which is to be an outdoor ballroom with a water feature.
After a shaky start things get on course when one of her rivals, Duras (Steven Waddington) comes to work as her foreman. Le Nôtre becomes increasingly intrigued with De Barra. Meanwhile his wife (the excellent Helen McCrory), an ambitious duchess who is having a series of affairs, begins to suspect, and looks on bitterly when her husband introduces Sabine to his friend, Philippe, Duc D'Orleans (Stanley Tucci), the King's flamboyant brother, and his sweet German wife, Princess Palatine (Paula Paul). They are all taken with De Barra's frank honesty and passion.
But Madame Le Nôtre decides to try and ruin the garden in an attempt to destroy De Barre's increasing reputation, but her actions only help bring De Barre and André Le Nôtre closer and they become united (and romantically entwined) in fulfilling the ambitious project.
Though at times it feels as if could have originated from a theatrical production, A Little Chaos is very much its own film, with the blend of passion the design and gardening sitting perfectly alongside the growing passion between two people. There is also a political and emotional backdrop in terms of Louis XIV and the French court. Often the film is at its best when it interweaves the development of the garden with Louis XIV. There is beautiful centerpiece where the King, his wife having just died, retreats for peace to an enclosed part of his garden where he is found by De Barra, who has no idea who he is. Enjoying the anonymity, he relishes pottering around the garden as the pair discuss flowers and fruit.
Kate Winslet is suitably serious and driven as De Barra, whose back story about being a widow is slowly revealed, and her relationship with Le Nôtre is nicely developed. Matthias Schoenaerts (Rust & Bone) is restrained and gentle as the put-upon architect (and perhaps the only man in court sporting designer stubble – but then he is essentially a gardener) and grows into the role as the film develops. Alan Rickman is a delight as the King while Stanley Tucci is equally good in his few scenes as the warm-hearted court dandy. Rickman even finds a small scene for his veteran The Winter Guest star Phyllida Law (mother of Emma Thompson), while strong support roles for Helen McCrory, Steven Waddington, Rupert Penry-Jones and Jennifer Ehle all reinforce just how well the film is cast.
There are a few times when modest budget shows through, but at the same time Rickman makes great use of the British locations and striking costume and make-up. He directs with a sense of compassion and enthusiasm for the subject and really gets the best out of his excellent cast.
Production companies: Potboiler Productions, The Bureau
International sales: Lionsgate International, www.lionsgate.com
Producers: Gail Egan, Andrea Calderwood, Bertrand Faivre
Executive producers: Zygi Kamasa, Guy Avshalom, Nick Manzi, Christine Langan, Ray Cooper, Norman Merry, Richard Wolfe
Screenplay: Alison Deegan, Alan Rickman, Jeremy Brock
Cinematography: Ellen Kuras
Editor: Nicolas Gaster
Production designer: James Merifield
Music: Peter Gregson
Main Cast: Kate Winslet, Matthias Schoenaerts, Alan Rickman, Stanley Tucci, Helen McCrory, Steven Waddington, Jennifer Ehle, Rupert Penry-Jones, Danny Webb, Phyllida Law