Dir/scr: Michael J. Weithorn. US. 2010. 108mins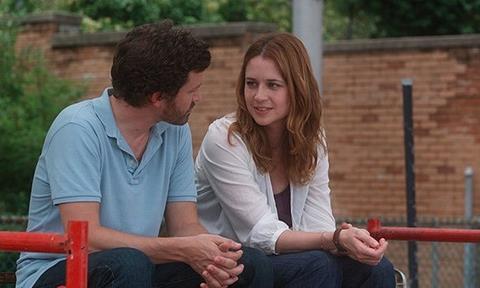 Suffused with feeling but dramatically wobbly, A Little Help is a modest character piece whose embrace of life's emotional messiness ends up hurting more than helping the proceedings. A film about mourning and self-discovery, this post-9/11 comedy-drama features a sympathetic performance from Jenna Fischer – best known as Pam on the US sitcom The Office – but writer-director Michael J. Weithorn's sitcom-y treatment of a mother and son coping with loss veers toward the superficial rather than the insightful.
A Little Help tries its best to honour how loss can emotionally upend people.
Opening in the US July 22, this indie boasts very little marquee appeal, although fans of The Office may be curious enough because of Fischer's involvement. Still, A Little Help's small dramatic stakes will probably send it quickly out of theatres and on to DVD and cable.
Set in the summer of 2002 in Long Island, New York, A Little Help concerns pretty but adrift Laura (Fischer), who works as a part-time dental hygienist and is married to Bob (Chris O'Donnell), a real estate agent so consumed with work that she's worried he may be having an affair.
After his unexpected death, she and her 12-year-old son Dennis (Daniel Yelsky) must learn to get along, although he's long resented her. But further complications soon arise when Dennis starts telling kids at his elite new private school that his dad was actually a fireman who died during 9/11, which forces Laura to play along lest he be humiliated by his snooty classmates.
Making his feature debut after a career producing and writing sitcoms (he co-created The King Of Queens), Weithorn pursues heavier fare with A Little Help, creating a story in which a former high school beauty discovers that she has to grow up in the face of tragedy. But the film's problems are all embodied in Laura, who doesn't feel sufficiently compelling as a central character.
Although Fischer gives Laura a likeable vulnerability, A Little Help's thesis that she's a spoiled woman who's coasted on her looks simply doesn't square with the pleasant, inoffensive character we see on the screen. The film hints that she's in a bad way because she's a drinker and a smoker, but beyond seeming wishy-washy there's nothing particularly objectionable or tormented about her actions that would suggest that her husband's death has sparked a long-overdue soul-searching on her part.
There are interesting ideas lurking around the margins of A Little Help, particularly that Laura's sister (Brooke Smith) has long resented Laura because of her beauty and charmed life. But because Weithorn favours broad-strokes supporting characters and telegraphs his plot twists – most notably in a flirtatious friendship between Laura and her sister's husband (Rob Benedict) – the movie is both inauthentic and predictable, no matter that Laura's shell-shocked behaviour often leads the story on unexpected tangents that have a live-wire immediacy to them. A Little Help tries its best to honour how loss can emotionally upend people, but Weithorn doesn't show the subtlety needed for such a delicate balancing act.
Production company: Secret Handshake Entertainment
Domestic distribution: Freestyle Releasing, www.freestylereleasing.com
Producers: Dena Hysell, Joe Gressis, Michael J. Weithorn
Cinematography: Tom Harting
Production designer: Kelly McGehee
Editor: Joe Gressis
Music: Austin Wintory
Website: www.alittlehelpthemovie.com
Main cast: Jenna Fischer, Chris O'Donnell, Rob Benedict, Daniel Yelsky, Kim Coates, Brooke Smith, Lesley Ann Warren, Ron Liebman