J.A. Bayona's adaptation of Patrick Ness' novel wins nine awards at the Spanish Goyas but Raúl Arévalo's debut as a director takes best film.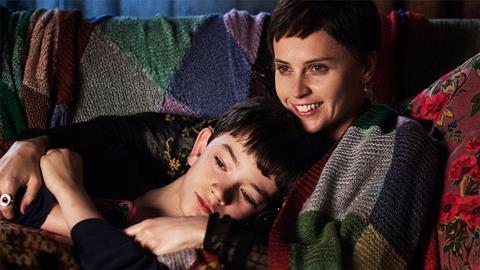 A Monster Calls went into the Goya Awards on Saturday night (Feb 4) with 12 nominations and ended up taking home nine prizes from the Spanish Film Academy, including best director for Juan Antonio Bayona.
Scroll down for full list of winners
The director, just weeks away from starting shoot on a Jurassic World sequel, was visibly moved with the film's performance, not only when he took to the stage to collect his Goya for best director, but also when his collaborators on the film did so for the film's other eight wins of the night, including best cinematography, special effects, sound and production design.
With a box office of $28.6m (€26.5m), A Monster Calls was the biggest film in Spain last year.
The Fury Of A Patient Man director Raúl Arévalo had already been awarded a best supporting actor award for Gordos in 2010 and he was nominated for best actor in 2015 for Marshland, by Alberto Rodríguez.
This time the actor-turned director was on stage to collect the Goya for best new director and best original screenplay, and beamed as producer Beatriz Bodegas picked up the prize for best film.
It was an excellent haul for the revenge thriller which previously won the best actress in the Orizzonti section at the 2016 Venice Film Festival for Ruth Díaz.
The Spanish Academy also feted Emma Suárez on the night, as both best actress for Pedro Almodóvar's Julieta and best supporting actress for La Propera Pell by Isaki Lacuesta and Isa Campo.
Suárez received the award for her work for Julieta from Pedro Almodóvar, and she thanked him for the chance to play "a character that suffers so much on the screen but that has made me extremely happy in real life".
The actress referred to the staggering number of actors and actresses unemployed in Spain in one of the calls of the night for more political support for culture and the film industry.
The best actor award went to Roberto Álamo for the police thriller May God Save Us, by Rodrigo Sorogoyen, while best new actor went to Carlos Santos for Smoke & Mirrors, by Alberto Rodríguez, based on a true-life Spanish political corruption scandal of the 1990s.
Timecode, on it's way to the Oscars, won best fiction short and Elle, by Paul Verhoeven, took home the best European film prize. The best Ibero American production was voted Spanish-Argentinian feature The Distinguished Citizen.
2017 Goyas winners
Best Film: The Fury Of A Patient Man (Raúl Arévalo)
Best director: J.A. Bayona (A Monster Calls)
Best New Director: Raúl Arévalo (The Fury Of A Patient Man)
Best Original Script: Raúl Arévalo and David Pulido (The Fury Of A Patient Man)
Best Adapted Script: Alberto Rodríguez and Rafael Cobos (Smoke&Mirrors)
Best Actress: Emma Suárez (Julieta)
Best Actor: Roberto Álamo (May God Save Us)
Best Supporting Actress: Emma Suárez (La Propera Pell)
Best Supporting Actor: Manolo Solo (The Fury Of A Patient Man)
Best New Actress: Ana Castillo (The Olive Tree)
Best New Actor: Carlos Santos (Smoke & Mirrors)
Best Cinematography: Óscar Faura (A Monster Calls)
Best Art Direction: Eugenio Caballero (A Monster Calls)
Best Director Of Production: Sandra Hermida Muñiz (A Monster Calls)
Best Editing: Bernat Vilaplana and Jaume Martí (A Monster Calls)
Best Song: Ai, Ai, Ai by Sílvia Pérez Cruz (Cerca De Tu Casa)
Best Original Score: Fernando Vázquez (A Monster Calls)
Best Hair And Make-up: David Martí and Marese Langan (A Monster Calls)
Best Wardrobe: Paola Torres (1898, Our Last Men In The Philippines)
Best Special Effects: Félix Bergés and Pau Costa(A Monster Calls)
Best Sound: Oriol Tarragó and Peter Glossop (A Monster Calls)
Best Animated Feature: Psiconautas, los niños olvidados (Alberto Vázquez, Pedro Rivero)
Best Documentary Feature: Frágil equilibrio (Guillermo García López)
Best European Film: Elle (Paul Verhoeven)
Best Ibero American film: The Distinguished Citizen (Gastón Duprat, Mariano Cohn)
Best Fiction Short: Timecode (Juanjo Giménez Peña)
Best Documentary Short: Cabezas Habladoras (Juan Vicente Córdoba)
Best Animated Short: Decorado (Alberto Vázquez)
Honorary Goya: Ana Belén