Dir: Todd Strauss-Schulson. US. 2011. 89mins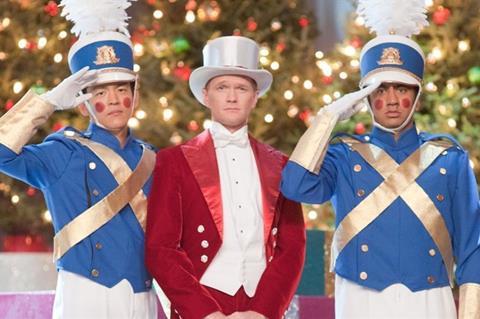 Spreading tidings of good cheer – along with the occasional joke about coked-up toddlers or horny virgins with homicidal mobster fathers – A Very Harold & Kumar 3D Christmas is a manic, uneven comedy that just barely hits more than it misses. While it lacks the warmth and consistent laughs of the 2004 original, Harold & Kumar Go To White Castle, the new film is far less relentlessly crass than the 2008 sequel, and the clear camaraderie of leads John Cho and Kal Penn goes a long way to making the whole enterprise a lively affair.
Neil Patrick Harris – reprising his role as an arrogant, edgy version of himself – knows how to make a one-note bit amusing, skewering his own image for maximum comic effect.
Releasing November 4, this R-rated Warner Bros. stoner comedy will probably make most of its box office haul domestically. (The first two instalments brought in approximately 84% of all their grosses stateside.) But considering that 2008's Harold & Kumar Escape From Guantanamo Bay is the series' top earner but only collected $38m in the US, there's a question of how high the ceiling is for this new sequel, even though its 3D screenings will bring in extra coin. More likely, 3D Christmas will have to settle for a niche audience, becoming a stronger ancillary performer than a theatrical one.
As 3D Christmas begins, it's been a couple years since successful Wall Street executive Harold (Cho) hung out with his old pal Kumar (Penn), who's become a layabout and a med-school dropout. But when Kumar receives a mysterious package at his door on Christmas Eve addressed to Harold, he visits his friend, which sets in motion a chain of events whereby Harold's in-laws' prized Christmas tree burns down, forcing Harold and Kumar to go on a mad search into the night for a replacement.
Written by Jon Hurwitz & Hayden Schlossberg, who also penned the first two movies, 3D Christmas unsurprisingly works best when first-time filmmaker Todd Strauss-Schulson simply lets Cho and Penn fall back into their comfortable, consistently amusing back-and-forth bantering, with uptight Harold nicely complementing the more combative Kumar. It's a shame, then, that the new film distracts from that rapport by creating a dull subplot in which the buddies' new best friends (Tom Lennon and Amir Blumenfeld) are trapped in the house of a murderous mob boss (Elias Koteas) after Harold and Kumar have already escaped.
But while 3D Christmas has too much plot busyness for its own good, the movie's scattershot comedic approach comes across as good-natured and inviting, going for a laugh wherever and whenever it can, even if it means using the 3D so that different objects fly right at the face of the viewer. Despite the plethora of proudly inappropriate humour, 3D Christmas doesn't have a mean bone in its body, a sentiment reinforced by Cho and Penn's very likeable interplay. The smart subversion of racial stereotypes that was the benchmark of Harold & Kumar Go To White Castle has been replaced with more and more jokes about getting high, but 3D Christmas is nonetheless oddly sweet and cheerful.
Both leads are effortlessly funny and appealing, which is good because most of the performances around them are frustratingly one-note. Danny Trejo in particular is a drag as Harold's disapproving father-in-law, and Lennon doesn't fare much better as Harold's hopelessly dorky suburban friend. At least Neil Patrick Harris – reprising his role as an arrogant, edgy version of himself – knows how to make a one-note bit amusing, skewering his own image for maximum comic effect. If 3D Christmas has a scene-stealer, though, it may be WaffleBot, an incredibly impractical but surprisingly helpful toy robot who makes waffles and, as Harold and Kumar will discover, can be a most loyal friend when you need one. Let's just hope no one gets the bright idea of making a spin-off film devoted to the little fella.
Production companies: New Line Cinema, Mandate Pictures, Kingsgate Films
Domestic distribution: Warner Bros. Pictures, www.warnerbros.com
Producer: Greg Shapiro
Executive producers: Nathan Kahane, Nicole Brown, Richard Brener, Michael Disco, Samuel J. Brown
Screenplay: Jon Hurwitz & Hayden Schlossberg
Cinematography: Michael Barrett
Production designer: Rusty Smith
Editor: Eric Kissack
Music: William Ross
Website: www.haroldandkumar.com
Main cast: John Cho, Kal Penn, Neil Patrick Harris, Paula Garces, Danneel Harris, Tom Lennon, Amir Blumenfeld, Danny Trejo, Elias Koteas