The Jungle Book's visual effects supervisor delivered a talk to NFTS students.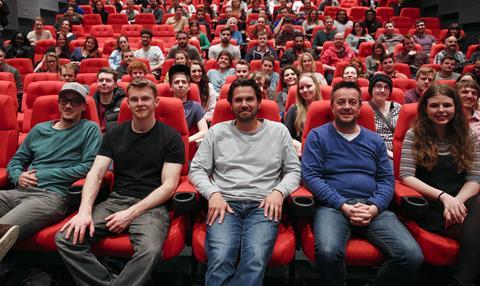 Adam Valdez, with over 25 years' experience and credits including Jurassic Park, Starship Troopers, The Lord of the Rings and Maleficent, delivered a masterclass to students from the National Film and Television School (NFTS) in which he explained how he started out – learning photoshop on a friend's computer and doing model making, then interning at Oscar-winning VFX legend Phil Tippett's studio.
"I was just sweeping floors to start with, but I learned so much," Valdez recalled. "One of the most important things I learned was that every scene, every beat, has a story – a beginning, middle and end."
He went on to work at WETA digital and then Moving Picture Company (MPC).
The Jungle Book
There were loud gasps of awe from the NFTS audience, where courses include Digital Effects, Games Design and Editing, as he referred to the 240 million render hours involved in creating The Jungle Book.
More than 10 NFTS graduates worked on the film as digital artists, compositors, roto/prep artists and in VFX production management.
Valdez spoke about the closeness of the film-making collaborative with visual effects supervisor Rob Legato, WETA's Dan Lemmon, cinematographer Bill Pope and director Jon Favreau.
"The director is like the lead note and everyone harmonises with them. Jon Favreau had a picture in his head, he knew what he wanted the film to be, he was clear on the tone - which was great for us."
Valdez showed behind the scenes footage and explained how they had worked with Bill Pope, pre-visualising the film, painstakingly working out every shot so they could build the digital sets which were then matched with blue-screen physical sets so that the lighting and action would all gel together.
"It was brilliant working with Bill, [Pope], he really got that this was like rehearsing the movie and talking to the people who're going to digitally light it. Hopefully you'll see more collaborations like this in the future."
Valdez explained how helpful he finds it to think of VFX as being like a second unit director, understanding what the director needs and contributing to that vision.
He advised the students, whatever their specialisation, to always ask themselves "'Does it work? Am I doing my part to make it work?'. There's no point just making a shot look cool – it's got to serve the film, to serve the story. The good artists raise their heads above the desk and think about the film they're making."
For anyone interested in visual effects, there is an open day on May 18 for the NFTS's MA in digital effects. Applications for the course are open until July 7. The NFTS offer a full range of film-making courses, including cinematography and directing.