Dirs: Alastair Fothergill, Keith Scholey. US. 2011. 89mins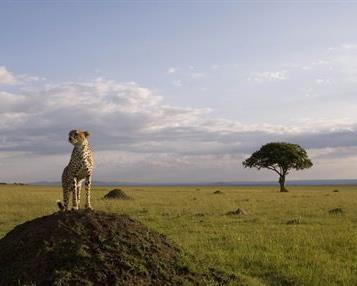 In a business that frequently has the tendency to disproportionately celebrate the contributions of above-the-line talent, the allure of African Cats is a reminder of below-the-line artisans. An involving, gorgeously photographed nature documentary that puts audiences on Kenyan plains in stunning fashion amidst its title subjects, the film only stumbles in its willful insistence on imposing a family-friendly narrative on footage that is more than capable of standing on its own, with less artificial constructs.
The film's incredible visual intimacy is its undeniable selling point.
Disney has had considerable box office success, particularly internationally, with its two other Earth Day nature documentary releases. In 2009, Earth grossed $109 million, while last year Oceans grossed $83 million, with 70% of those respective hauls coming from overseas. Similar returns seem a given for African Cats, followed by sustained ancillary marketplace value.
As with the previously mentioned films, a portion of opening-weekend ticket sales also go to charity, in this case the Save the Savanna fund, benefiting the Masai Mar National Reserve in Kenya, where this movie was filmed over an almost two-year period.
African Cats focuses predominantly on two families, intercutting their separate stories of hunting and survival. One strand follows Sita, a fearless and cunning cheetah raising five newborn cubs as a single mother. The other follows a large pride of lionesses, including cub Mara, who live and travel under the protection of Fang, a broken-toothed old lion. When the receding river waters allow for the encroachment from the north of a would-be rival, Kali, along with his four sons, it seems like Fang's days of supremacy are numbered.
The film's incredible visual intimacy is its undeniable selling point. Amazing cinematography, from Owen Newman and Sophie Darlington, affords viewers the opportunity to get up close and personal with the animals in a way that even a zoo exhibit does not, observing their interactions with one another and their surroundings in a natural habitat. The slow-motion presentation of a gazelle chase also stirringly highlights the cheetah's tremendous economy of movement.
There is definitely a heavy editorial hand imposed upon African Cats, sometimes to its detriment. In a world filled with carnivores, heroes and villains are arbitrarily selected, and when Sita is menaced by other cheetahs, they are identified as gang of brothers, seemingly to make the stakes personal.
While the gnarliest moments of its hunting takedowns and subsequent feasting are understandably edited to secure a Stateside "G" rating, the film also trades in euphemisms (an animal wandering away for the solitude of death is "giving up the fight") that undercut teachable moments.
This is the mild, mitigating disappointment of African Cats — that it seems so wholeheartedly committed to presenting an entirely fact-free story, and instead pursing an emotionally-based narrative that directly correlates all animal actions with human traits, like courage and love. The filmmakers never quantify cheetahs' speed, or relative lack of endurance. Nor do they address life spans or the hunting methods of lions in a way that might add a bit of educational heft to the proceedings. There are no biological details here.
Samuel L. Jackson's narration, dripping with exaggerated dramatic tones that needlessly attempt to dictate mood, doesn't much help matters. Granted, he's given a lot of awkward dialogue with which to work, but less would have been more effective here.
Former American Idol winner Jordin Sparks contributes a song, "The World I Knew," under the end credits.
Production companies: Walt Disney Studios, Fothergill-Scholey Productions
Domestic distribution: DisneyNature
Producers: Keith Scoley, Alix Tidmarsh
Executive producer: Don Hahn
Associate producer: Jane Mamlin
Screenplay: Keith Scholey and John Truby
Cinematography: Owen Newman and Sophie Darlington, with aerial and tracking photography by Simon Werry
Editor: Martin Elsbury
Music: Nicholas Hooper
Website: www.Disney.com/AfricanCats
Narrator: Samuel L. Jackson