Dir: M. Night Shyamalan. US. 2013. 100mins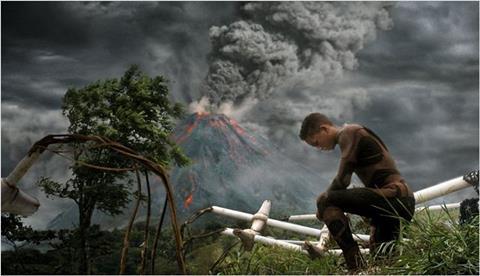 An intriguing but decidedly underwhelming mixture of genres, tones and sensibilities, After Earth has the benefit of being one of this summer's crop of aspiring blockbusters that isn't a sequel, prequel, reboot or based on existing material. But that supposed originality doesn't mean much when the execution is this scattershot, as director M. Night Shyamalan and stars Jaden Smith and Will Smith deliver a trite sci-fi adventure that's probably too intense for younger viewers and not sophisticated enough for adults.
Shyamalan shows an ability to build suspense during After Earth's second half when Kitai faces a series of tense attacks from different wildlife and even one of the pheromone-sniffing aliens.
Opening May 31 in North America before expanding across much of the globe the following week, this Columbia Pictures offering may feature Will Smith and his son equally in the ads, but Jaden is the movie's true lead, providing the soon-to-be-15-year-old his latest box office test. (His previous starring vehicle, the 2010 remake of The Karate Kid, grossed almost $360m worldwide.)
After Earth will need to do major work over the next two weeks before the June 14 arrival of Man Of Steel, which will presumably crush its competition. The Smiths' and Shyamalan's names will help commercially, but mediocre reviews may be a prelude to mixed word-of-mouth, dampening overall grosses.
Set 1,000 years in the future, and based on a story by Will Smith, After Earth depicts a society in which humanity has long since fled a devastated Earth, now living on a remote planet where they must fight fearsome alien creatures that track them by the pheromones they secrete when they're afraid. Wanting to spend some time with his son Kitai (Jaden Smith), who wants to be a soldier like him, the fearless, aloof Cypher (Will Smith) brings the kid along on a mission, only to have their spaceship damaged by asteroids and crash land on Earth, which is now overrun by hostile wildlife. With Cypher's leg broken, the inexperienced Kitai must journey alone across dangerous terrain to recover the ship's distress beacon that is the only hope of rescuing him and his father.
Combining a shipwreck tale with a fantastical Jules Verne-esque adventure yarn, After Earth also yearns to have an emotional core in which this chilly father-and-son relationship is warmed by the acknowledgment of a traumatic past tragedy that's spelled out in occasional flashbacks. (In addition, there's also a pseudo-philosophical bent to the film, which preaches the importance of not letting fear control our destiny.) No matter the clumsiness of the presentation, there is at least the attempt to deliver a summer entertainment that reaches for deeper resonance than is typical for such escapist fare.
Unfortunately, noble intentions aren't enough, and while Shyamalan (who co-wrote the screenplay with Gary Whitta) had success early in his career coaxing accomplished performances from young actors — most notably Haley Joel Osment in The Sixth Sense — he isn't able to achieve the same feat with Jaden Smith.
After showing such promise in his first major role, opposite his father in The Pursuit Of Happyness, Jaden has since proved incapable of carrying a movie, his limited dramatic range particularly damaging in a movie like After Earth in which his character isn't just trying to stay alive but also grow as a person. Though it's certainly too early in his career to make any sweeping statements about his potential, at this stage he simply seems to lack the endless magnetism of his superstar father.
But then again, Will Smith isn't particularly gripping, either — although his lack of spark appears to be a choice. Playing a grizzled warrior who long ago learned to block any hint of fear so as to withstand humanity's lethal alien foes, the elder Smith speaks in a conscious monotone that suggests a man who's had to sacrifice an emotional connection to others in order to survive. (His name, Cypher, feels like an on-the-nose indication of his inscrutable personality.)
The problem is that his performance is so stilted as to be distractingly mannered. As a result, After Earth strands us with an unpolished young star who can move around freely but can't emote and his famous father who's confined to a chair and whose natural charisma has been frustratingly bolted down.
As he did with The Sixth Sense and Signs, Shyamalan shows an ability to build suspense during After Earth's second half when Kitai faces a series of tense attacks from different wildlife and even one of the pheromone-sniffing aliens. The effects work isn't always top-notch, but the relentless fright sequences at least stir up the senses a little.
Oddly, though, these sequences fall into a disappointing middle ground: They're certainly too brutal for younger audiences, but older viewers may find them to be unsatisfying. Furthermore, they point to a larger conflict within After Earth between crafting a bleak, dystopian life-or-death struggle and producing a more inspirational, heart-warming father-and-son story. Like the uneasy balance between Will Smith's natural presence and his son's strained emoting, this conflict never resolves itself, marooning the film.
Production companies: Columbia Pictures, Overbrook Entertainment, Blinding Edge Pictures
Domestic distribution: Sony Pictures, www.sonypictures.com
Producers: Caleeb Pinkett, Jada Pinkett Smith, Will Smith, James Lassiter, M. Night Shyamalan
Executive producer: E. Bennett Walsh
Screenplay: Gary Whitta and M. Night Shyamalan, story by Will Smith
Cinematography: Peter Suschitzky
Production design: Tom Sanders
Editor: Steven Rosenblum
Music: James Newton Howard
Website: www.afterearth.com
Main Cast: Jaden Smith, Will Smith, Zoë Isabella Kravitz, Sophie Okonedo