Dir: Adrian Vitoria. UK. 2011. 90mins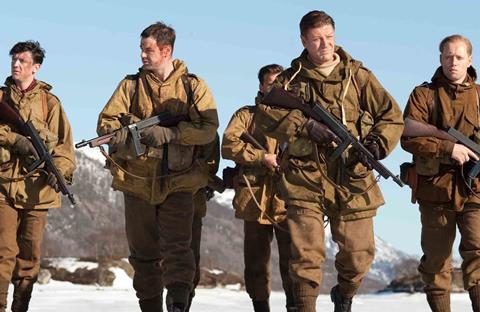 The World War II movie has been one of the great film success stories in recent years, with audiences embracing generic action tales with enthusiasm. This smartly made British wartime romp purports to detail the birth of early special-forces unit 30 Commando, established by one Ian Fleming later to find greater fame as the creator of James Bond.
The script aims for simple and accessible genre action, which tends to mean more than few cliché moments.
In the UK at least the casting of home entertainment stars Sean Bean and Danny Dyer should aid its DVD life, while Bean's reputation (via the likes of The Lord Of The Rings and new TV series A Game Of Thrones) could be a useful selling point internationally. The action of Age Of Heroes is very much along the old-fashioned lines of The Heroes Of Telemark and Where Eagles Dare, but it is certainly watchable and entertaining at times.
The whole birth-of-the-SAS and derring-do behind enemy lines tale is a well-trod format, but still one that ticks the right boxes in terms of delivering stoical British soldiers battling it out against evil Nazis. The film might lack the budget to compete with the likes of Michael Bay or Quentin Tarantino, but it tells its story with straightforward ease.
On the eve of Dunkirk, Cpl Bob Rains (Dyer), a tough but belligerent soldier, stands up to an officer and is jailed for insubordination. While in prison (and in a very Dirty Dozen moment) he comes across Maj Jack Jones (Bean), who is looking to pick up one of his former Commando team named Brightling (Stephen Walters, who doesn't actually look tough enough to be a special forces chap) for a mission.
Rains forces his way into the team, and before you know it they are all in Scotland training for a mission in German-occupied Norway to try and capture new radar technology. Cue plenty of guns and martial arts training before a stoical band of brothers is parachuted into Norway for a little by-the-numbers action and adventure.
Sean Bean is impressive as the solidly tough leader, and is the charismatic heart of film with his physical presence and gruff heroism. Danny Dyer – who so often has played gangsters, chancers and hooligans – has the appropriate 'ordinary bloke' appeal, though never looks totally at ease as a World War II soldier. James D'Arcy crops up as Ian Fleming, whose idea it was to establish 30 Commando as a secret special forces team, though in truth it would have been nice to seen more of him – D'Arcy is a talented and underused actor, and deserves more screen time.
The script aims for simple and accessible genre action, which tends to mean more than few cliché moments. But it is a simply structured film – intended to be the first of a trilogy, with Age Of Honour and Age Of Glory to come – that ticks the right boxes and delivers some modest wartime adventure thrills.
Production companies: Neon Park, Giant Films, Panaramic, Atlantic Swiss Prods., Magna Films, Prime Focus, Moskus Film, Matador Pictures, Cinema Five, Regent Capital, Contentfilm Intl., Metrodome
International sales: Content Film, www.contentmediacorp.com
Producers: Lex Lutzus, Nick O'Hagan, James Youngs, James Brown
Executive producers: Nigel Thomas, Charlotte Walls, Peter Urie, Christopher Figg, Robert Whitehouse, Jamie Carmichael, Shail Shah, Simon Goldberg, James Greenslade
Co-producers, Jan Eirik Langoen, Sigurd Mikal Karoliussen
Screenplay: Ed Scates, Adrian Vitoria
Cinematography: Mark Hamilton
Editor: Chris Gill
Production designer: Richard Campling
Music: Michael Richard Plowman
Main cast: Sean Bean, Danny Dyer, Aksel Hennie, Izabella Miko, James D'Arcy, William Houston, John Dagleish, Daniel Brocklebank, Guy Burnet, Stephen Walters