Dir: Andreas Johnsen. Denmark. 2013. 85mins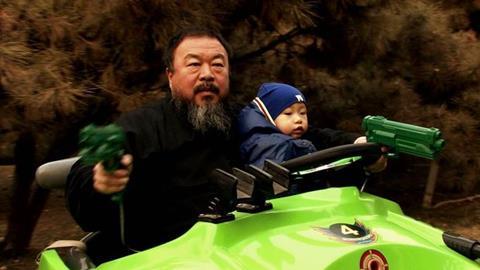 The strange, tense and at times harrowing life of Chinese artist and provocateur Ai Weiwei as he served out time under house arrest is powerfully and at times moving presented in Andreas Johnsen's absorbing documentary. As film crews and journalists asked Weiwei constantly for statements he has to stop them at his door since he is banned from talking…but when the door closes Johnsen is there behind the scenes to record his bizarre life.
Ai Weiwei: The Fake Case is a fascinating behind-the-scenes film.
Ai Weiwei: The Fake Case, which had a special screening at CPH:DOX, received its official world premiere at IDFA in Amsterdam, and given worldwide interest in Weiwei and his world the film is likely to attract distributor interest.
Conceptual artist Al Weiwei has become a very visual and vocal figure in opposing the Chinese government in recent years, leading to his 2011 arrest and solitary confinement, which lasted for two months. The film follows him as he first returns home, though he is still on parole and being sued for $2.5 million tax evasion…a lawsuit that he calls "The Fake Case" (given that his company is also called 'Fake' Ltd).
With press gathered around his house he can say nothing as part of his probation arrangement. Visibly tired and wearing a baggy blue t-shirt he simply says that 'everybody should enjoy life' and then vanishes behind the green/blue metal gate. The world's press turns off their cameras, but it is here that Andreas Johnsen's film begins.
In relatively straightforward style, the film follows Al Weiwei as he tries to extricate himself from his legal issues; dodge (or on once occasion playfully follow) the security staff assigned to observe him; prepare for a new art exhibition based on his stint in solitary confinement and reflect on his experiences. With his wife, young son Ai Lao (seen picking chili peppers with his father, or off at an amusement park together) and family around him he ponders on what direction his activism should now take.
He meets with art collector Larry Warsh; looks at new work from fellow activist/artist He Yunchang, and while seemingly at ease always being photographed and observed there are rather plaintive scenes when he sits with eyes closed, clearly suffering. He admits to having to take tablets for high blood pressure, that he can't sleep and feels his memory is getting bad. Despite that, he launches Weiweicam.com, a 24 hours a day live streaming of his activities via four cameras.
There is an impressive bit of anger from him as police cars accidentally injure one of his staff and he rages out into the street outside his compound, chasing the police. When his probation ends he receives by fax "two shitty pieces of paper" but admits the next battle of getting his passport back so he can travel again.
Ai Weiwei: The Fake Case is a fascinating behind-the-scenes film, and given Al Weiwei's continued profile should be one that attracts festival and distributor interest.
Production companies: Rosforth, Danish Documentary Production, Danish Film Institute, Nordisk Film & TV Fond
International sales: DR International sales, www.dr.dk/Salg/DRsales
Producer: Katrine A Sahlstrom
Executive producers: Andreas Johnson, Sigrid Dyekjaer
Cinematography: Andreas Johnson
Editor: Adam Nielsen