Dir: Rodrigo Garcia. Ireland. 2011. 114mins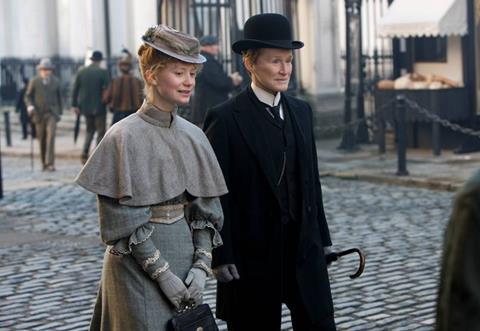 Albert Nobbs is the perfect servant; dedicated, discreet and self-effacing, seeing everything but saying nothing. Albert is also a woman who has denied the very essence of her existence to survive in a world dominated by men. The story of her secret life and thwarted dreams is told in an impeccably crafted, desperately sad production that has been a lengthy labour of love for star Glenn Close.
The heartache of Close's performance is expressed in eyes that appear to be filled with anxiety and all the happiness lost along the way.
Critical acclaim and possible awards consideration for Close's touching, credible performance should generate an audience for this plaintive, old-fashioned period drama whose chief appeal might lie with those who have admired the likes of Mrs Henderson Presents, Dean Spanley or television sensation Downton Abbey. Ancillary will provide a rewarding after life.
Close first played Nobbs off-Broadway almost 30 years ago and has toiled extensively to bring George Moore's novella to the screen.
Patrizia Von Brandenstein's impeccable production design brings a Christmas card glow to the evocation of a snowy 19th century Dublin. Albert is a waiter at a luxury hotel run by haughty Mrs Baker (Pauline Collins). Albert performs his duties, saves his money and keeps himself to himself until he is obliged to share his bed with painter Hubert Page (Janet McTeer).
Page is also a woman making her way in the world as a man but has organised her life in a way that forces Albert to dream of what might be possible for herself. She pursues modest hopes of opening her own shop and starts to court young maid Helen (Mia Wasikowska) whose main interest in Albert is 'his' money. Helen's infatuation with brawny, feckless handyman Joseph (Aaron Johnson) spells tragedy for all of them.
Director Rodrigo Garcia generally keeps sentimentality at bay as he allows the story to unfold with an understated charm. Close is physically convincing as a shy, unassuming man. When she dons a bowler hat she could be the spitting image of Stan Laurel. This is also a society in which the aim of a servant was to be inconspicuous.
It is entirely believable that nobody might have suspected the real gender of this odd, well-mannered little fellow. The heartache of Close's performance is expressed in eyes that appear to be filled with anxiety and all the happiness lost along the way. When Albert briefly dons a dress and skips out into the world as a woman it is a rare moment of pure joy in a catalogue of misery.
Close is surrounded by an expert ensemble cast with Pauline Collins enjoyably theatrical as the flirtatious Mrs Baker, Brendan Gleeson adding depth to the role of the hotel's resident doctor and Janet McTeer capturing the gruff compassion of Hubert.

Production Companies: Mockingbird Pictures, Parallel Films, Trillium Productions
International sales: WestEnd Films, www.westendfilms.com
Producers: Glenn Close, Julie Lynn, Bonnie Curtis, Alan Moloney
Executive producers: Cami Goff, John C.Goff, Sharon Harel-Cohen, Daryl Roth, David E. Shaw
Screenplay: Glenn Close, Gabriella Prekop, John Banville based on a novella by George Moore
Cinematography: Michael McDonough
Production designer: Patrizia Von Brandenstein
Editor: Steven Weisberg
Music: Brian Byrne
Main cast: Glenn Close, Mia Wasikowska, Janet McTeer, Brendan Gleeson, Aaron Johnson