Dir/scr: J.C. Chandor. US. 2013. 105mins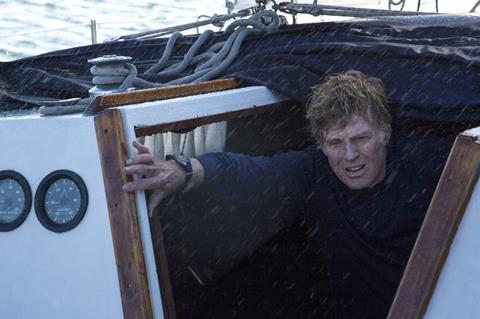 Engrossing both dramatically and as a minimalist narrative exercise, All Is Lost is a survival-at-sea story powered by an emphasis on realism and a refusal to allow any false emotional beats to impede on this unsentimental tale. Starring Robert Redford in a nearly wordless performance that features no one else on screen, this follow-up film from Margin Call filmmaker J.C. Chandor couldn't be more different than that razor-sharp, dialogue-driven ensemble piece. Thankfully, his boldness in going another direction pays off rather handsomely.
All Is Lost is a fascinating attempt to eschew the conventions of the battle-for-survival genre.
After premiering at Cannes in the festival's Out Of Competition section, All Is Lost is expected to be released in the US at the end of October, with an awards push for Redford inevitable. Considering the success of other survival stories such as Cast Away, 127 Hours and Life Of Pi, there certainly could be an audience for this stripped-down affair, especially if crowds are curious to experience the movie's spartan production. Internationally, the lack of dialogue could also be helpful, the story so elemental that it transcends language.
Working from his original screenplay, Chandor introduces us to his nameless protagonist (Redford) who wakes up in his sailboat in the middle of the ocean to discover that it's been hit by a stray freight container, water seeping in quickly. He's able to keep the boat from sinking, but the water does enough damage to the radio and other electrical equipment that he needs to figure out a way to get help, especially since a ferocious storm is heading directly for him.
Among its other attributes, All Is Lost is a fascinating attempt to eschew the conventions of the battle-for-survival genre. Ordinarily, a tale about a lone man fighting for his life in the middle of nature requires the filmmaker to create a backstory (either in the film's introduction or with flashbacks throughout) that flesh out the character so as to create a rooting interest. Along the same lines, the character's life-or-death ordeal is usually meant to be a poetic metaphor for a personal issue that has been an obstacle to his emotional growth. The character isn't just trying to stay alive — he's learning a lesson about himself.
Quite successfully, Chandor removes all these tropes — as well as the need for the character to verbalise what he's doing or how he's feeling — to present a pure survival story. We learn almost nothing about Redford's character, and the actor's performance concentrates on the physical business of repairing the boat and braving the next storm that comes his way. There's no inner life to the man, but All Is Lost forcefully argues that such character details are irrelevant in the midst of such a frightening situation. Plus, it leaves the audience to speculate tantalisingly about who this man was before we met him.
Wisely, Chandor has made the character a smart, resourceful outdoorsman. Staying calm during the escalating dangers, the man knows his boat and its supplies thoroughly, and part of the movie's allure is in seeing how he uses what he has on hand to fix a hole or produce fresh water. The one intriguing comparison to Margin Call is that, like that talky film, Chandor doesn't worry about making every little moment aboard the boat understandable.
In Margin Call, Chandor filled the dialogue with byzantine financial jargon that the audience slowly began to understand by noticing the characters' reactions. Similarly, All Is Lost may occasionally be confusing for those who aren't nautically-inclined, but Chandor has faith in the viewer that Redford's confident, intuitive performance will provide enough information for why his character is doing certain things to keep his leaky, damaged boat afloat.
In adherence to his movie's lean style, Chandor and his cinematographer Frank G. DeMarco (as well as his underwater director of photography Peter Zuccarini) give All Is Lost a gorgeous look without allowing the character's struggle to turn picturesque. Chandor's shot selection avoids showiness, but editor Pete Beaudreau cuts around just enough so that the film never becomes too static. Admittedly, some of the mediocre effects shots betray All Is Lost's relatively small budget, a greater disappointment because of the realism that's achieved elsewhere. But even if the film's trajectory ultimately doesn't differ that much from other survival stories', Chandor's commitment to his approach helps make it stand out among its peers.
Production companies: Black Bear Pictures, Treehouse Pictures, FilmNation Entertainment, Sudden Storm Entertainment, Before The Door, Washington Square Films
International sales: FilmNation, www.wearefilmnation.com
US distribution: Lionsgate, www.lionsgate.com, and Roadside Attractions, www.roadsideattractions.com
Producers: Neal Dodson, Anna Gerb, Justin Nappi, Teddy Schwarzman
Executive producers: Cassian Elwes, Laura Rister, Glen Basner, Joshua Blum, Zachary Quinto, Corey Moosa, Howard Cohen, Eric D'Arbeloff, Robert Ogden Barnum, Kevin Turen
Cinematography: Frank G. DeMarco
Production designer: John P. Goldsmith
Editor: Pete Beaudreau
Music: Alex Ebert
Website: www.facebook.com/allislostfilm
Main cast: Robert Redford