Dir/scr: Sara Johnsen. Norway. 2012. 106mins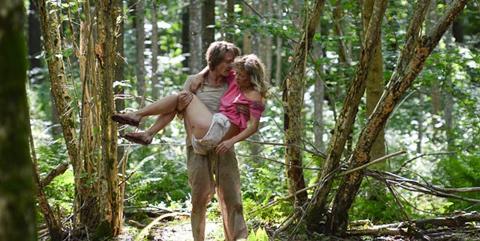 The mystery behind a murder unearths many secrets, but not enough surprises, in All That Matters Is Past, a romantic drama overripe with tragic undertones. Though this tale of two brothers and the woman they both love is anchored by stripped-down performances, Norwegian writer-director Sara Johnsen's third feature fails to modulate its dramatic intensity, which ends up suffocating rather than elevating the proceedings.
As the melancholy William, Joner exudes a rawness that's alluring and vulnerable at the same time.
All That Matters will be released in Norway on November 2, but its international possibilities look limited to art houses. The film boasts no stars, but its fractured timeline and bleak tone could appeal to those who favour the work of director Alejandro González Iñárritu, who operates in a similar vein.
The film opens with our three leads — Janne (Maria Bonnevie) and brothers William (Kristoffer Joner) and Ruud (David Dencik) — in the forest in the midst of a tense, unexplained face-off. The killing of one of the three provokes a visit from a local detective (Maria Heiskanen), who traces back the events that built to this deadly confrontation, specifically the recent rekindling of a love affair between Janne and William.
Though All That Matters may superficially seem like just another drama about an ill-fated romantic triangle, Johnsen (Upperdog, Kissed By Winter) has grand ambitions, including a bold structuring device in which the film cuts back and forth between several different time periods: the trio's childhood, their teen years, the three months before the murder, and the days after the killing.
The intercutting succeeds in creating a sense that these three characters have always been bonded, their complicated relationship forged from the moment both brothers were drawn to Janne and she chose William. In addition, the film continually explores the conflicting beauty and terror of the natural world. (Images of wild animals being skinned coexist with tranquil lake scenes and graphic shots of a panicked childbirth.) These juxtaposed visuals give the film an untamed, almost primitive ferocity that can be quite arresting.
Unfortunately, Johnsen's revelations about the trio's past are plentiful but predictable, a strategy that produces diminishing dramatic returns. As entrancing as Johnsen's intercutting can be, eventually the technique begins feeling like a delivery device for unloading yet another shocking misery upon the audience. (Also ineffective is an unwelcome subplot involving an Asian woman and her daughter that adds little.) Despite All That Matters' sympathy for its unhappy, intertwined characters, the film eventually resembles a chessboard upon which Johnsen can move her luckless pawns.
With that said, the performances merit special attention, particularly Bonnevie playing a woman powerless to resist William's magnetic pull. As the melancholy William, Joner exudes a rawness that's alluring and vulnerable at the same time. And like Dencik as his troubled brother Ruud, Joner suggests William's unresolved hurt — a gnawing pain that, each in their own way, burdens all three leads.
Production companies: Nordisk filmdistribusjon AS, 4 1/2, BOB Film Sweden AB, Windelov/Lassen ApS, Nordisk Film ShortCut AS, Storm Studios AS, Storyline Studios AS, NRK, DR, SVT, Norsk Filminstitutt, Eurimages, Nordisk Film-og TV-fond, Svenska Filminstitutet
International sales: TrustNordisk, www.trustnordisk.com
Producer: Turid Øversveen
Executive producers: Håkon Øverås, Karin Julsrud, Pål Sletaune, Marius Holst, Lone Korslund
Cinematography: John Andreas Andersen
Production design: Jørgen Stangebye Larsen
Editor: Zaklina Stojcevska
Music: Fernando Velazquez
Website: http://trustnordisk.com/film/2012-all-matters-past
Main cast: Maria Bonnevie, Kristoffer Joner, David Dencik, Maria Heiskanen