Dir/scr: Ben Cookson. UK. 2014. 97mins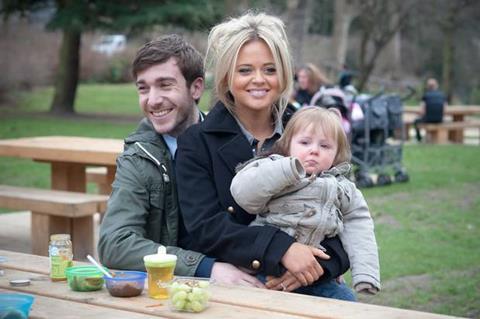 There is something rather safe about using that old gambit of an upcoming wedding as the backdrop for yet another low-budget comedy. Writer/director Ben Cookson's rather undercooked blokey rom-com has occasional engagingly crude moments, but despite some game performances it will vanish speedily from the screens and head to its more deserving life on home entertainment.
Writer/director Ben Cookson keeps the lowbrow humour rolling along.
Almost Married lays out its cultural credentials right from the start as two naked chaps out paintballing have 'that' conversation about where you would least like to get shot by a paintball – in the eye or in the groin (or as the film debates, "what would you rather lose, an eye or a bollock").
When Kyle (Philip McGinley, from Game Of Thrones) and his best man (and best pal) Jarvis get too drunk on his stag night they end up at a 'massage parlour' where Kyle ends up contracting Chlamydia. This means – in fine 'comedy' style – he has to avoid having sex with fiancée Lydia (Emily Atack, from The Inbetweeners) for three months to prevent it from spreading…let alone her finding out what he has been up to.
The lads' solution is they roll from drunken night to drunken night and engage in a series of increasingly elaborate and blessedly silly schemes to keep Kyle away from Emily…cue plenty of sex jokes, black humour, male nudity and crude laughs.
Writer/director Ben Cookson keeps the lowbrow humour rolling along – and even puts in a neat twist – but the film rarely convinces as a theatrical product. Philip McGinley has a lot of fun as Kyle, but sadly the charming Emily Atack is given little to do with the thinly written Lydia.
Production companies: Tested Films, Liquid Noise Films
International sales: Genesis Film Sales, www.genesisfilmsales.com
Producer: Lionel Hicks
Executive producer: Fumiko Thomas
Cinematography: Si Bell
Editor: Steve Clark
Production designer: Celina Norris
Main cast: Emily Atack, Philip McGinley, Bill Fellows, Lynne Wilmot, Mark Stobbart