Dir: Alan Ereira. UK. 2012. 90mins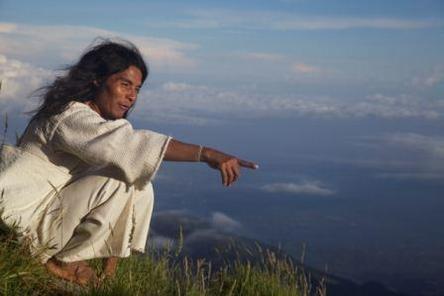 A unique, thoughtful and provocative documentary, Aluna is the sort of film that will inspire great world of mouth, get picked up by television channels who have anthropological material and be a regular at film festivals where its subject and backstory will provoke much debate. Perfectly placed for special theatrical screenings linked to presentations and discussion, it is impressively made and offers plenty of food for thought. The film screened at the Sheffield Documentary Film Festival.
A film that is entertaining, illuminating and intriguing.
It is essentially a sequel to the 1990 feature-length BBC documentary From the Heart Of The World: The Elder Bothers' Warning, which looked at the Kogi people, who live in a genuine lost civilization hidden on an isolated triangular pyramid mountain in the Sierra Nevada de Santa Marta, Colombia, nearly five miles high, on the Colombian-Caribbean coast.
In that film, film-maker Alan Ereira grew to know the Kogi, with the film allowing a platform for the Kogi spiritual leaders – who had concluded that their work of caring for the world was rendered useless by the scale of resource exploitation – who wanted to warn the rest of the world about the dangers of exploiting environment. They then withdrew to the mountain homes.
The background to Aluna is the Kogi have been looking down from the mountain at the activities of 'Younger Brother' (their name for the rest of humanity) and become frightened about how the world is being changed. They sought out Ereira and said this time they wanted to make a film aimed at big-screen presentation to stress their message.
This time round the Kogis come off the mountain, get passport and travel to London to meet scientists as well as pick up a specially made 400km long golden thread which they plan to unreel around their mountain in an attempt to demonstrate the importance of hidden lines inside nature (they believe there is a mind inside nature, that they call 'Aluna') that connect sites critical to life and nature.
As well as filming the Kogi and their mission, Ereira also gave them their own Cannon 5D cameras to record life within the Kogi community, and this footage – constantly fascinating – is interwoven with the material films to construct a film that is entertaining, illuminating and intriguing as the Kogi try and make their world view clear to physicists and biological scientists.
Production company/contact: Aluna The Movie Ltd., www.alunathemovie.com
Producer: Alan Ereira
Executive producer: Ben Woolford
Cinematography: Paulo Andres Perez
Editor: Andrew Philip
Music: Alejandro Ramirez
With: Alan Ereira, Mama Manuel Coronado, Mama Shibulata Zarabata, Francisca Zarabata