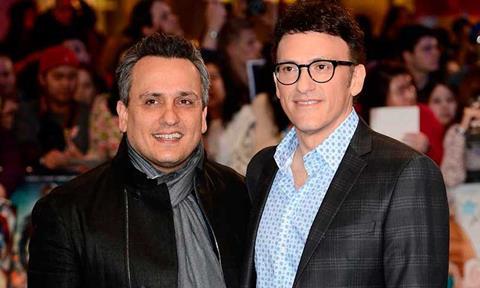 Amazon Studios is teaming with Avengers: Infinity War directors Anthony and Joe Russo on a project the streaming platform describes as "a large-scope, multi-layered international event series."
Amazon revealed few details about the project, on which the brothers will work through their AGBO Studios operation, but said it will be set in "an imagined layered world" and will consist of a 'mothership' series and multiple local language series produced in local markets.
The project was unveiled during Amazon's session at this week's Television Critics Association (TCA) press tour in Los Angeles.
The Russo brothers have become hot talents with the success of Infinity War and their direction of two other Marvel features, Captain America: The Winter Soldier and Captain America: Civil War. They previously worked as directors on comedy series Arrested Development and as writers and executive producers on sitcom Community.
Amazon Studios head Jennifer Salke said: "The Russo brothers have impacted the pop culture barometer of creative excellence with their vision for both Avengers: Infinity War and Captain America: Civil War. They brought a level of scale and execution to those films that has raised the bar for audiences everywhere and we can't wait for them to do the same for us on this project for our Amazon Prime customer. We are thrilled to be working with Joe and Anthony Russo and their AGBO Studios as they build this incredible, multi-faceted, international franchise."
Other news announced by Amazon at the TCA tour included the signing of J D Payne and Patrick McKay, writers of the next Star Trek feature, to develop the streaming platform's The Lord Of The Rings series.
Amazon is believed to have spent close to $250m for the rights to make multiple series based on the Tolkien novels.
In a statement, Payne and McKay said: "The rich world that J R R Tolkien created is filled with majesty and heart, wisdom and complexity. We are absolutely thrilled to be partnering with Amazon to bring it to life anew. We feel like Frodo, setting out from the Shire, with a great responsibility in our care — it is the beginning of the adventure of a lifetime."