Belle director Amma Asante is not one to be pigeon-holed.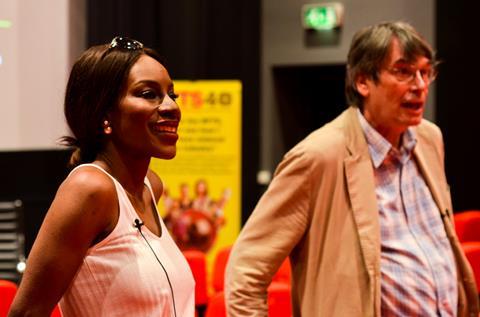 Speaking to students at the NFTS (the only talk she has given to a film school), Asante cautioned them against defining themselves too soon in their film-making careers, adding: "Don't let society or others define you either. I really don't define myself as a Black film-maker, or a female film maker; I am just a film maker."
It is a theme that she readily admits runs through both the period costume drama 'Belle' and her Bafta winning indie film 'A Way of Life.'
"In my first film, 'A Way of Life,' there are no black characters but the issues (of racism between white teenagers and a Turkish neighbour) are relevant to black people… and to everyone. In Belle, I speak to the human condition," she says.
'Belle'
'Belle' tells the extraordinary story of Dido Elizabeth Belle (1761-1804) who was the daughter of John Lindsay, a British admiral, and an African slave. She grew up in Kenwood House, Hampstead, under the guardianship of Lord Chief Justice Mansfield and, against social convention of the time, was raised almost as an equal to his other great niece, Lady Elizabeth Murray.
Asante says the film was inspired by a postcard of a painting, attributed to Johann Zoffany, in 1779, that depicts both Dido Belle and Lady Elizabeth as almost as equals, which broke with the social convention of the day. However, there is an ambiguity in the painting; Dido Belle is shown neither as a servant, or as the lady in the portrait.
"I found that painting fascinating; I wanted to know who Dido Belle was and how this painting came to be."
While the film focuses on a legal ruling by Lord Chief Justice Mansfield that lead to the abolition of slavery in England, the film draws parallels between racial and sexual inequality at a time when women were also treated as property. The film shows how even in the upper echelons of society, women were virtually worthless without a dowry and many were forced into marriage for financial reasons.
Developing Characters
Asante says she could have told the story from Lord Mansfield's point of view but chose to tell it through Belle's eyes. "My biggest problem putting together Dido as a character was because she was so privileged, not just as a woman but as a black woman at that time. I needed that to be believable."
To create a sense of contrast, Asante created the character Mabel, the black servant girl, to show how Belle's life could have been if Lord Mansfield had not chosen to raise her as his own.
"Belle leads a very privileged life. At one point she realises that she has been freed twice in her life; once as a slave given her freedom and again as a woman who is given her own income. As a woman, if you didn't have a husband of consequence, you had no future."
Questions were raised during production about whether viewers would like Dido Belle.
"I wanted to show that Dido Belle isn't asking for more than she already has, she is just asking to be equal."
Working with actors
Asante started her career as a child actor on the TV series Grange Hill set in a school, and while she doesn't believe acting was her forte, Asante says the experience was a good one because it made her appreciate good actors around her.
"I developed an appreciation of good acting, while also deciding to become a writer/ director. Now when I'm filming, I am an authority figure as a director - but the actors trust me."
The film includes two child actors who Asante says were encouraged to rehearse their scenes and make suggestions about their performances.
"We rehearsed and discussed their roles a lot. And it was from these discussions that the girls said they wanted to play around with who was the big sister depending on the situation. When you really know your story, that gives you the confidence to take on board other people's ideas."
Inspiration
My father died during the production and this had a big impact on me emotionally. He was a great influence in my life and he is a part of the film.
He was the one who told me that, "what is right can never be impossible" (the line is attributed to Lord Mansfield in the film).
The portrait of Dido and Elizabeth hung at Kenwood House for many years until the 1920s when it was moved to the family home in Scotland. It now hangs in Scone Palace, the family home. Asante told students she had just flown down that day from Scotland where she had been invited by the family to stay at Scone Castle to view the painting.
"It was wonderful to finally see the painting that had inspired the film."
'Belle' is only Asante's second film and like the character 'Belle,' she is a director who seems to know herself - even if others don't know where to place her. Asked by one of the NFTS students about her experience of being a black female director, Asante replied:
"We are all contradictions. I am a woman and I'm black and I'm British and Ghanaian and I live in Holland, I've been an actor, I'm a writer and a director. To society, I don't make sense, I don't conform to the image of a director; I've come here today in my white dress and Jimmy Choo shoes… because that's just who I am. I don't want others to define me. As film-makers the most important thing is to define yourself."