Dirs: Rebecca Chaiklin, Fisher Stevens. US. 2014. 87mins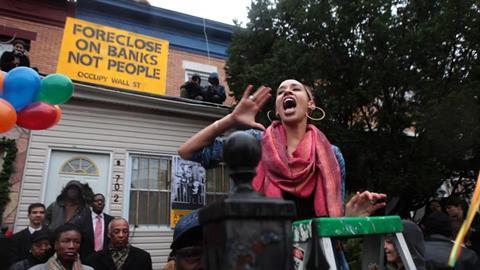 The New York City police ousted Occupy Wall Street (OWS) protesters from a park in lower Manhattan in November 2011, after an improvised settlement there lasted almost two months. Another World follows ten occupiers for whom the experience didn't end with the police action.
No surprise, Another World shows its cards. The film is dedicated to OWS activists, and the tone is clearly supportive.
In the earnest documentary, it's too soon to tell whether US politics were transformed by the protests that spawned similar encampments around the world. Yet in tracking individuals drawn to the park, filmmakers Rebecca Chaiklin and Fisher Stevens find stories that go beyond the boilerplate anti-corporate anger and cloying group hugs of political chronicles.
Another World (a term taken from what protesters said they wanted to create) faces a challenge in finding an audience. Every major city in the US and Europe had its own occupation experience. Still, the centrality of OWS and its window onto American politics should put the doc into festivals internationally. A theatrical release in the US will test whether the public wants to revisit OWS. Poignant Oprah-ready personal stories will be crucial to any promotion.
Distilling the sprawling demonstrations and economic demands of OWS into the voices of ten characters puts the protests into a manageable narrative for the filmmakers and potential audiences. With prodigious editing and surprising production values, Shaiklin and Stevens (the actor turned producer) make an wieldy chunk of raw experience watchable in their well-crafted doc about committed and troubled activists that OWS drew from improbable backgrounds.
Besides giving a tactile perspective on the protests in Manhattan, thanks to embedded cinematographer Scott Cramer, the film puts human faces on activists whom the mainstream media stigmatised as noisy grumblers with bankers in their crosshairs. (Remember that Time magazine named "the Protester" as its Person of the Year in 2011.) The OWS demonstrators are neither zealots nor vagrants in Another World, although plenty of both were in Zuccotti Park. They include a New Hampshire farmer's son whose family risks losing their homestead (who falls in love with a would-be model on site), a Palestinian-American corporate lawyer frustrated in his profession, an aspiring rapper whose family in North Carolina became homeless, and a veteran woman warrior of long-forgotten activist battles.
No surprise, Another World shows its cards. The film is dedicated to OWS activists, and the tone is clearly supportive. Yet it's more than a cheerleading chorus as it witnesses the growing pains of direct democracy, the protesters' imperfect mechanism of self-rule. Music by Fall on Your Sword probes the emotions that chafed in close quarters.
Consensus among anarchists is difficult enough. Discussion wasn't helped by manic group drumming day and night. And it's hard not to laugh at the crowd's call–and-response practice of shouting back whatever its orators say – echoing one of the best gags in Monty Python's Life Of Brian (1979).
Chaiklin and Stevens choose to focus on the ardor of their ten appealing protagonists, while underplaying the hostility and harassment by New York police. Law enforcement sent homeless youths and ex-prisoners to the park in a shrewd cynical gambit to erode morale from within. The film's intrepid cinematographer, Scott Cramer, was arrested and jailed for trespassing. And the visual collage of Another World is enhanced by extensive police video, hacked from an NYPD site by the anarchist group Anonymous.
Assessing OWS's legacy, the filmmakers follow some of the well-meaning cast into new activist missions, reminding us that the truly committed of campaigners are their own .1% - or less - of the population. Yet Hero Vincent, the charismatic rapper from North Carolina, is a sad casualty, awaiting trial after being beaten by North Carolina police (who recognised him from tv reports) for ignoring a stop sign on his bicycle. It's just the kind of abuse that can turn ordinary people into activists.
Production companies: Article 19 Films, Diamond Docs, Insurgent Media, Harbor Picture Company
International sales: Insurgent Media, info@insurgentmediany.com
Producers: Rebecca Chaiklin, Fisher Stevens, Scott Cramer, Lauren Saffa, Mark Monroe
Executive producers: Lekha Singh, Zak Tucker
Co-producers: Zara Duffy, Bruce Ehrmann, Stephen Walker
Screenplay: Mark Monroe
Cinematography: Scott Cramer
Editor: Lauren Saffa
Music: Fall on Your Sword