Dir: Nandor Jakob-Benke. Hungary-Romania. 2011. 83mins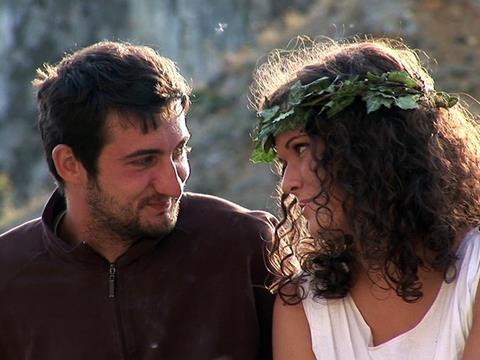 Very much a film-student movie of limited appeal outside Romania, Hungary and the student film festival circuit, the clumsily titled Antigone, Or Let's Make Movies In Transylvania! is very much a hit-and-miss affair that despite its deliberate scattershot home-movie style isn't without rare moments of charm.
It is a deliberately clumsy film that lacks the sophistication to break out from its modest origins.
That isn't to say it will have much of a big screen life. With the crew playing themselves in a 'lets-go-and-make-a-movie-on-location' pastiche there are far too many scenes of improv shouting and mugging to make the film coherent or watchable, but as it settles into its blustering structure there are moments that ring true. The film screened at the Transylvania International Film Festival.
Nandor Jakob-Benke – the director, who also plays the director in the film – plans to make an updated version of the Greek classic Antigone, and after securing some funding starts looking for actors. He eventually settles on Reka Szasz to play Antigone, to the amusing annoyance of his co-producer/right-hand man who favours a blonde with no acting experience.
The subsequent scenes – as the crew and cast come together, rehearse and start to shoot out on location – are all improvised with the humour (such as it is) coming from the blustering ineptitude of all involved as this no-budget student film slowly come together.
The only real moments of enjoyment come as the rag-tag team film out at a rocky location. The soundman fails to record a day's work, so it has to all be shot again leading to tension between cast and crew. Cigarette breaks are plentiful; the one-woman catering operation gets so upset when filming won't stop when the food is ready that she throws the food to the ground; a local official arrives to tell them they don't have permission to film and to top it all the cameraman and leading lady have slipped off into the nearby woods.
It is a deliberately clumsy film – film students pretending to be film students – that lacks the sophistication to break out from its modest origins. But there are modest moments to enjoy, and at least the team are smart enough to mock their own ineptitudes.
Production company/sales: Projectograph, projectograph@gmail.com
Producer: Balint Zagoni
Screenplay: Nandor Jakob-Benke, Kalman Debreczi, Reka Szasz, Levente Olah-Badi, Balint Zagoni
Cinematography: Csaba Banto, Istvan Kurti
Editor: Zsolt Kato
Main cast: Nandor Jakob-Benke, Kalman Debreczi, Reka Szasz, Levente Olah-Badi, Balint Zagoni